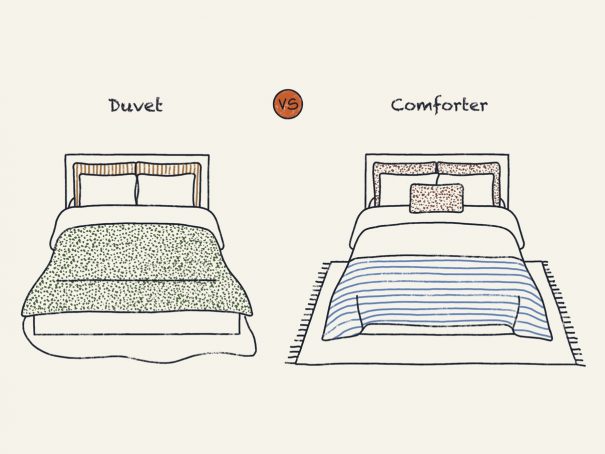 Duvet Vs Comforter: What's The Difference?
Written by Mehran Uzair
Last Updated on Jul 21, 2023
As much ease they provide, buying bedding accessories that are just perfect can be a little tiring. But you don't have to be restless in navigating your way to it. In the discussion of duvet vs comforter, the major difference is that a duvet requires two pieces of bedding, whereas a comforter is single-piece bedding. You can easily use a comforter for a quilt as it has evenly distributed filling, while a duvet is quilted and filled with wool, feathers, cotton, silk, or other alternatives. 
Now to narrow it down for you to decide, here are some points that will work as a buying guide for you.
What Is a Duvet?
Duvet is often confused as a comforter; however, it is much different in reality. It is sewn with a large cloth to give the shape of a bag filled with warm and comforting materials. It is a two-piece accessory that involves an inserting bag and fillings. 
A duvet is a soft blanket that has synthetic fibers inside it. It is not quilted or stitched, thus requiring a cover and giving a rather unfinished look without the additional layer. These are typically meant to be an insert and are sold separately from the cover. This offers an opportunity to decorate your bedding accessories even more. You can always choose to buy contrasting and matching covers for your duvet. 
Among the relaxing sensation, size options, and many other benefits, here are some pros and cons that you must keep in mind while comparing the difference between a duvet and a comforter. 
Pros
One of the most highlighting qualities of a duvet is that it is easy to clean. This bedding accessory comes with a cover that makes it easy for you to manage. You only have to clean your duvet cover from time to time. 

A duvet is lightweight, which gives it a super fluffy texture making you even more comfy in your happy place - the bed. 
There are many options available in duvet sizes in the market for you to choose from. 

A duvet is also available in multiple options giving you the liberty to mix and match with the covers whenever you wish. 

You can find an option that also fits your budget because a bed duvet comes at an affordable price. 
Cons
It can be a little challenging to assemble a bed duvet. You can watch a million videos on YouTube for a duvet cover hack, but it will still be problematic. 

When it comes to duvet insert vs comforter, a duvet insert is prone to bunching inside the cover. It can further be awkward to sleep with it. 

The harsh reality about a duvet is that you will have to buy another piece after a while. It is not long-lasting and will require you to purchase another. 

A duvet doesn't provide as much coverage as a comforter. 
What is a Duvet Cover?
After reading the above paragraphs, you must wonder what a duvet cover is and how you use it? 
Well, a duvet cover works just the same for the duvet as the pillow sham does for a pillow. It is an insert bag for the duvet that gives it a fluffy texture, keeps you warm, and prevents the duvet from getting all worn out and dirty. You simply slip the duvet inside the cover and close the inserter. 
These covers generally have buttons, ties, or zippers at the bottom corner to close it carefully. They are meant to be the shielding part of your duvet that you can wash time and again so that you don't have to wash the thick layer of your duvet.
What Is a Comforter?
A bed comforter is a thick, soft, and wide decorative blanket that has been in trend ever since it came into the markets. You can use a layer of thin, soft bed sheet under it, and it will surely tuck you into the most comfortable sleep. 
A comforter is usually quilted or filled with synthetic fibers like cotton blend, polyester down feathers, wool, or silk. Typically, it is made of silk or silk to deliver a smooth & soft texture. However, you can choose a fluffy comforter made of fur. 
You can find different comforter sizes in the market as these are commonly sold in bedding sets or combinations with matching sheets and pillow covers for the same bed size.
Point to Consider:
If you are confused between bedspreads and comforters, the only point to jot down is the level of warmth they provide. Comforters are crafted with fabrics that provide warmth and support during winters, while bedspreads are best fitted for warmer months as they tend to be lightweight and breathable.

 

Similarly, comforters are different from blankets and duvets as well. The point of variation between duvet vs comforter vs blanket is that a comforter is formulated with insulation between two layers of fabric, and a blanket is made of a single layer. On the other hand, a duvet is a bed covering that keeps those in a bed warm and cozy. 
Pros
When you compare duvet cover vs comforter, the highlighting point of the comforter is that it always comes in the finished style. You don't have to add any further accessories to it.

 

There are a lot of options available in comforter sizes. You can choose from twin, double, king and queen comforter sizes.

 

A comforter is a long-time investment. You will not have to pull your credit/debit card again to buy another for a long time.

 

A comforter does not require assembling again and again. It is easy to manage and does not lose its shape. 
Cons
Unlike a duvet, a comforter does not come with a cover; therefore, it is far more challenging to clean. You cannot wash it at your home and will have to invest from time to time to get it clean.

 

A comforter deflates over time.

 

A comforter is not a cheap and practical option like a duvet. It is a big design commitment for your space. You can't change it after a while
Duvet Sizes vs Comforter Sizes
Comparing a comforter cover vs a duvet cover, you will find that while a duvet looks fluffier but a comforter offers more area coverage. A comforter will cover the entire area and even hang on the sides of your bed.
When it comes to discussing duvet cover size vs comforter size, here are some points that you must consider.
| Size | Comforter | Duvet |
| --- | --- | --- |
| Twin/Twin XL | 64" x 89" to 70" x 88" | 66" x 86" to 68" x 88" |
| Full/Double | 80" x 89" to 90" x 94" | 81" x 86" to 84" x 88" |
| Queen | 88" x 90" to 90" x 94" | 86" x 96" to 88" X 100" |
| King | 104" x 90" to 108" x 94" | 102" x 88" to 110" x 98" |
You can use the above chart as a size guide; however, some companies or manufacturers may add or subtract a few inches in the given measurement. So, before investing your money in a duvet or comforter, you must consider your mattress and bed size to bring home the accurate size of bedding.
Things to Consider While Choosing Between Duvet or Comforter
After discussing various aspects of what a duvet is vs a comforter, there are still a few things that you may want to consider while choosing. 
Design Commitment 
A duvet is clean, simple and fluffier in appearance, whereas a comforter is layered and coordinated. 
The prime duvet vs comforter difference is the style commitment. You can change your duvet after some time, but a comforter is a long time investment which means you will have to be committed to the same bedding for a long time. 
When it comes to design, a duvet cover can be changed. It is a perfect option if you want a simpler and changeable option. 
Maintenance 
If you are pondering duvet vs comforter for care & maintenance, a duvet is far easy to maintain than a comforter. You can simply remove the duvet cover and wash it at home in your machine while you will have to take your comforter to a professional for cleaning. 
Budget 
When budget is not a concern, a comforter is an ideal choice. It is smooth, wide, and comfortable. On the other hand, a duvet is a more practical choice. You can bring multiple covers for your duvet and use them as you please.
Duvet Vs Comforter: Which one to choose?
Do you like your bed to look like a big white cloud or concise, simple yet fluffy? Perhaps the following points will help you come to a final decision. 
You Should Choose A Duvet If 
You don't want one design element on your bed. 

You want to have a fluffy layer on top of you while sleeping. 

Budget is a concern for you, but you need a comfortable bedding accessory. 

You want something easy to maintain. 
You Should Choose A Comforter If 
You can commit to one single design for a long time. 

The budget is not a concern for you. 

You want layered bedding. 

You can afford the maintenance.
Conclusion
With too much information at the fingertips, it is difficult to narrow it down to a good & suitable decision. Well, the given points on what is a duvet set vs comforter set, will surely help you understand your preference and choose between a duvet and a comforter.
Disclaimer: This website does not offer medical advice nor professional medical services; rather, it is provided solely for educational, informational, and/or entertainment purposes. Individuals seeking medical advice should consult a licensed physician. The information provided should not be used for diagnosis or treatment of any condition, disease, or injury. When you have a medical condition, you should always talk to licensed doctor or other certified medical professional. You should never delay seeking professional medical advice or treatment based on the contents of this website. Call 911 or immediately go to the nearest emergency room if you think you may have a medical emergency. The contents of this website are provided "as-is", Dreamcloud Sleep and its parent, subsidiaries, affiliates, employees, contributors disclaim any warranty of the information contained herein. Please contact support@dreamcloud.com to report any errors, omissions, misinformation, or abuse.
Shop Our Most Popular Bedroom Must-Haves