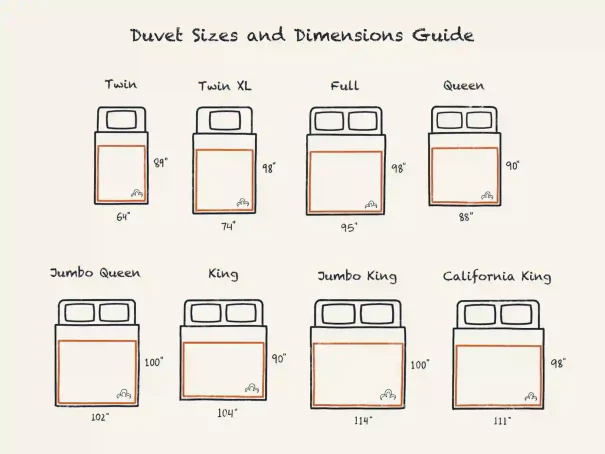 Maybe you want to spruce up your boring old bed. Or maybe your old blanket has given up, and you are looking for an upgrade. Whatever your reasons are, understanding the size and dimensions is imperative if you are in the market looking for a plush duvet. Why? Imagine bringing home a beautiful duvet only to find it hanging from your bed and rolling on the floor. Or, in another scenario, it is so short that your feet are exposed to the cold. Knowing the available duvet sizes will help you avoid such situations. Read on to learn more!
| Duvet Sizes | Dimensions (IN) | Dimensions (CM) |
| --- | --- | --- |
| Twin | 64 inches X 89 inches to 68 inches X 88 inches | 162.56 cm X 226.06 cm to 172.72 cm X 223.52 cm |
| Full | 80 inches X 89 inches to 90 inches X 94 inches | 203.2 cm X 226.06 cm to 228.6 cm to 238.76 cm |
| Queen | 88 inches X 90 inches to 90 inches X 94 inches | 223.52 cm X 228.6 cm to 228.6 cm X 238.76 cm |
| Jumbo Queen | 102 inches X 100 inches | 259.08 cm X 254 cm |
| King | 104 inches X 90 inches to 104 inches X 94 inches | 264.16 cm X 228.6 cm to 264.16 cm X 238.76 cm |
| Jumbo King | 114 inches X 100 inches to 116 inches X 100 inches | 289.56 cm X 254 cm to 294.64 cm X 254 cm |
Now that you are familiar with the standard duvet sizes, let's dig a little deeper and understand what works for each bed type and learn more about duvet and duvet cover sizes.
Twin Size Duvet
The size of a standard twin duvet is approximately 64 by 89 inches. Your twin-size duvet can easily fit a standard twin and a twin XL mattress. It is the smallest available size, which can perfectly fit children's beds. If you want something cozy yet compact for your dorm, a twin duvet works well. 
As twin duvets are small, they are easy to carry and make a perfect travel companion.
Twin XL Duvet Size
The twin XL duvet measures 74 by 98 inches. It is almost five inches longer than a standard twin. Hence, if you like the compact size of a twin yet crave a few extra inches, a twin XL duvet is what you need. 
Full Duvet Size
Full-size or double-size duvets measure 95 by 98 inches. They gel well with a full mattress; you can even pair them with a twin or twin XL bed. A full-size duvet can comfortably cover two children. However, for two adults, it can be slightly small. 
Queen Duvet Size 
Queen size duvets range from 88 by 90 to 90 by 94 inches. They are the perfect fit for a queen mattress. 
Queen beds are the most popular these days. They have enough space for a single sleeper to spread themselves comfortably. At the same time, they have enough space for two adult sleepers. A standard queen duvet can easily cover a couple. Plus, it can also accommodate a small child.
Jumbo Queen Duvets Size 
A jumbo size queen duvet is larger than a standard queen and measures approximately 102 by 100 inches. 
A jumbo queen-size duvet is usually 12 to 14 inches longer and wider than the standard size. So, you can also use it on more extensive beds. If you and your partner need a duvet that fully covers you and keeps you cozy throughout the night, a jumbo queen is the right choice. 
King Duvet Size 
King-size duvets range from 104 by 90 to 104 by 94 inches. And they are the right size for a king and California King mattress. A king-size duvet can easily cover two adults and a child. 
Jumbo King Duvet Size 
Jumbo king duvets start from 114 by 100 inches and can be larger. They are fit for King beds taller than 14 inches, and California King Beds taller than 16 inches. These duvets provide the largest drape. Thus, they are also more expensive than a standard king duvet.
California King Duvet Size
If you own a Cal king mattress, a California king duvet is what you need. While you can use a king or a jumbo king on this mattress, a Cal king duvet perfectly fits the mattress size.
How to Choose A Duvet?
Now that you are familiar with all the standard duvet sizes available in the market and their dimensions, let's move on to how you can choose a compatible duvet. 
Cover Fabric
The fabric of your duvet's outer cover should be considered first. Why? Because certain fabrics can make you feel hot and others can make you feel cold. You need to pick up a material or fabric as per your body temperature. 
Let's look at some of the popular duvet cover fabrics to make it easier for you! 
Cotton: Cotton is widespread and comfortable when it comes to duvet fabrics. It is cheap, durable, and easily available. Another advantage of cotton is that it is a breathable fabric. 
Silk: If you want to add a luxurious touch to your room, a silk duvet is what you need. Again, silk is breathable, suitable for humid climates, and repels dust.  
Bamboo: If allergies are a regular occurrence, a bamboo duvet cover is excellent because of its hypoallergenic properties. It also wicks away heat and sweat. 
Flannel: Flannel is a type of cotton woven and then brushed to make it so much softer. So, if you live someplace where cold or chilly nights are a common occurrence, a flannel duvet will keep you oh-so-cozy. 
Polyester: The most significant advantage of a polyester cover is that it is cheap and wrinkle-free. However, it is not as breathable as all the other fabrics.
Fill
You will find natural and synthetic fill material and duvet shells in duvets. If you have sensitive skin and are prone to allergies, it's better to go for a natural filling. The most common duvet fills include;
Down: Down fills provide more warmth and are lightweight. They are also more breathable. 
Feather: Goose and duck feathers have high fill power, which means they are not very heavy yet keep you warm. 
Wool: Wool regulates your body temperature, is hypoallergenic, chemical-free, and flame-resistant!
Synthetic Polyesters: Synthetic polyester fills can give you the feel and softness of a down at a much lower price. However, they are not very breathable.
Thread Count
The thread count of your duvet must be between 200 to 600 per square inch of the material. The thread count is an essential factor while finalizing your duvet. The higher the count, the more breathable and softer the fabric is. 
A duvet can guarantee a good night's sleep during chilly winters and cool nights. However, make sure you pick the correct duvet dimensions not to be too short or uncomfortably large. 
Happy duvet shopping!
Disclaimer: This website does not offer medical advice nor professional medical services; rather, it is provided solely for educational, informational, and/or entertainment purposes. Individuals seeking medical advice should consult a licensed physician. The information provided should not be used for diagnosis or treatment of any condition, disease, or injury. When you have a medical condition, you should always talk to licensed doctor or other certified medical professional. You should never delay seeking professional medical advice or treatment based on the contents of this website. Call 911 or immediately go to the nearest emergency room if you think you may have a medical emergency. The contents of this website are provided "as-is", Dreamcloud Sleep and its parent, subsidiaries, affiliates, employees, contributors disclaim any warranty of the information contained herein. Please contact support@dreamcloud.com to report any errors, omissions, misinformation, or abuse.
Shop Our Most Popular Bedroom Must-Haves