On average, a DreamCloud mattress generally weighs about 50 to 140 pounds depending on the mattress size & mattress variant you are choosing. 
However, what is the exact weight? How is the DreamCloud mattress constructed? Bringing you all this and more below!
DreamCloud Mattress Sizes and Their Weight
Let's look at the DreamCloud mattress weight. The below-mentioned table gives you information on all the standard sizes.
| Mattress | Twin size (lbs) | Twin XL Size (lbs) | Full size (lbs) | Queen Size (lbs) | King Size (lbs) | Cal King Size (lbs) |
| --- | --- | --- | --- | --- | --- | --- |
| Dreamcloud Mattress Weight | 50 | 53 | 72 | 85 | 107 | 107 |
| Dreamcloud Premier Mattress | 66 | 72 | 90 | 106 | 134 | 131 |
| Dreamcloud Premier Rest | 60 | 74 | 93 | 110 | 134 | 138 |
DreamCloud Mattress Construction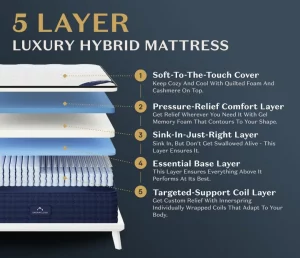 If you are looking for cozy comfort and delightful sleep, you cannot go wrong with The Dreamcloud - Luxury Hybrid Mattress. It successfully combines the plushness of memory foam and the stable support of the innerspring coils. The queen-size DreamCloud mattress weighs 85 lbs, making it easy to move.
Dreamcloud Premier Mattress Construction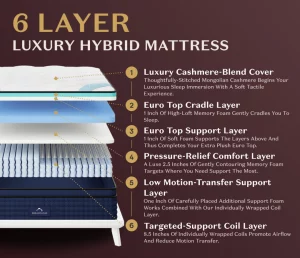 If you are looking for something ultra-luxurious, bring home Dreamcloud Premier Mattress. The hybrid of memory foam and innerspring gives you a taller comfort layer for deep, peaceful slumber. It also comes with a plush cashmere Euro top, which gives you a luxurious feel. A queen-size Dreamcloud Premier mattress weighs 106 lbs.
Dreamcloud Premier Rest Mattress Construction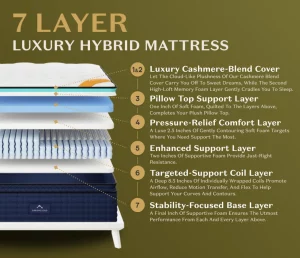 If you are looking for a blend of plush and luxurious, you cannot go wrong with Dreamcloud Premier Rest Mattress. It comes with a soft Cashmere Pillow Top that cradles your body and offers the right pressure point relief. The supporting layers and the innerspring offer you the best slumber. The queen-size DreamCloud Premier Rest mattress weighs 110 lbs. 
A DreamCloud mattress can be a perfect choice for you as it comes with distinct layers that come together to give you a flawless mix of comfort and luxury. If you want sweet dreams and cozy sleep, Dreamcloud is always the right answer!
Disclaimer: This website does not offer medical advice nor professional medical services; rather, it is provided solely for educational, informational, and/or entertainment purposes. Individuals seeking medical advice should consult a licensed physician. The information provided should not be used for diagnosis or treatment of any condition, disease, or injury. When you have a medical condition, you should always talk to licensed doctor or other certified medical professional. You should never delay seeking professional medical advice or treatment based on the contents of this website. Call 911 or immediately go to the nearest emergency room if you think you may have a medical emergency. The contents of this website are provided "as-is", Dreamcloud Sleep and its parent, subsidiaries, affiliates, employees, contributors disclaim any warranty of the information contained herein. Please contact support@dreamcloud.com to report any errors, omissions, misinformation, or abuse.
Shop Our Most Popular Bedroom Must-Haves