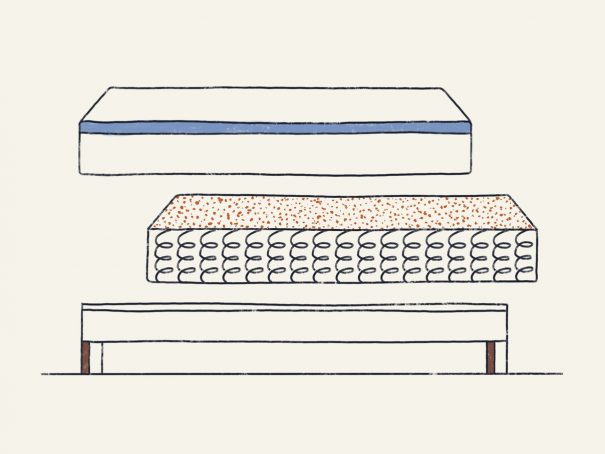 Do you need a box spring? The short answer is - most probably not. Most modern mattresses don't require the extra support of a box spring, especially bed frames with solid foundations or memory foam mattresses. However, you need to consider a few deciding factors to see if your mattress and box spring are a match made in heaven or not. So, let's find out!
What Is a Box Spring?
A box spring is a supportive foundation for your mattress that you can place below your mattress. Also known as bed bases, they are made up of a box and springs, just as the name suggests! You can think of it as extra support for your mattress. 
Box springs were made in the 1800s and were popular until the early 1900s. Then, the manufacturers made them with a traditional spring and box base. 
Looks-wise, they might feel outdated, but they can come in handy for many reasons. But a few manufacturers have modernized the box springs and made them compact, more breathable, and sensible. 
Box springs can be a wise choice for a firmer mattress as they protect the mattress from sagging and help them last longer. However, a few mattresses without a box spring are not that supportive. Sometimes, it can also be that you are so used to a box spring that it helps the mattresses feel softer and more comfortable.
When Do You Need A Box Spring?
Now that's an interesting question! It's not just about the mattress. The need for it also depends on the type of bed frame you are using. Most mattresses do not require a box spring, while some do. So, do you need a box spring with a bed frame? Let's find out!
Metal bed frames tend to be collapsible and tender compared to others. Although metals are considered strong, they can be hollow from the middle or come with minimal support. In such cases, you'll need to support the mattress so that it doesn't succumb to the pressure. Plus, these bed frames are designed to hold box springs easily.
Some mattresses need a box spring for support, apart from the bed frames. And these are old mattresses. We all know that when a mattress gets old, it needs to either be replaced, repaired, or given better support. So, if you have a 6-7-year-old mattress and do not wish to buy a new one, you should consider purchasing a proper box spring.
Other Mattresses That Come With A Boxspring Suggestion
Sometimes mattresses come with a suggestion or instruction to use a box spring. In such cases, you should buy a good box spring to improve your mattress life.
A box spring is required if you have a traditional double-sided innerspring mattress. It would give you all the extra support you need while making the mattress comfortable.
But, do you need a box spring with a platform bed? Not really, as your platform bed can offer optimal support to the mattress.
What Does a Box Spring Do?
Mattresses will benefit more when they have a firmer and solid foundation to rest. A box spring absorbs the impact made on the mattress every day and makes it durable. Unfortunately, they were so much in fashion when the mattresses couldn't give the necessary support to their owners. Nowadays, the modern mattress offers excellent features, so the use of box springs has reduced considerably. 
Now that you know what a box spring is and why you may need it, let's understand what is the purpose of a box spring?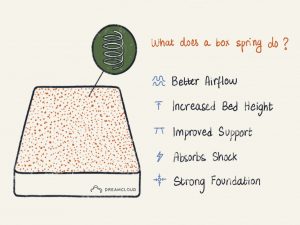 Increase the height of the bed 

Ensure there is a proper airflow

Give more support 

Absorb shock 
Let's learn more in detail about what does a box spring do! 
Although most bed frames are good enough for the mattress, some of them might not support your mattress as needed. It can cause the mattress to sink quickly, making it uncomfortable for you. Plus, some mattresses need a box spring. 
Box spring works best for short-height beds by increasing the height of the bed. It acts as an extra layer between the mattress and bed, making it easier to get out of bed. It can be a lifesaver for tall people with short-height beds, saving them from endless back pains. 
Did you know that box springs are mostly hollow from the inside? This means it gives more air to your mattress, keeping it fresh and airy. Airflow can be a contributing factor to a good night's sleep. 
A significant benefit of having a shock-absorbing bed is its durability. Any bedding that doesn't have a proper support system could use a box spring. In addition, the coils help absorb shock if you have kids or dogs who like to jump on the bed and promote motion isolation.
When You Don't Need Box Spring
Now that you know when you desperately need a spring box, let's talk about when you don't need one. Understanding this could help you save more!
These bed frames are quite durable, supportive, and thoughtfully designed. You can simply put your mattresses above them without any extra supporters. 
The whole purpose of an adjustable bed frame is to give your mattress the comfort it needs. You don't need to burn money on buying extra support for this.
When the mattress is new, it's firm, supportive, and comfortable. If you've picked up ortho mattresses, there is no need for extra support. These mattresses without box springs are easy to use and also comfortable. 
 If you are wondering, do you need a box spring with a memory foam mattress? Well, a box spring for memory foam mattresses is not required. These mattresses are well designed to support the body, so a box spring for a memory foam mattress would be a complete waste of money. 
So, can you put a foam mattress on the box spring? While you can put it, you shouldn't put it! 
Box Spring vs Platform Bed vs Foundation
It's safe to say you have understood a lot more about box spring since you started. So now, let's look into the comparison between platform bed vs box spring vs foundation. 
A box spring is a simple support system for your mattress that either comes with a wooden or a metal frame and is filled with springs. You must consider buying a box spring if you have an innerspring mattress or planning to buy one. For instance, if you have a memory foam mattress at home, you don't have to worry about box spring vs foundation, as a box spring doesn't gel well with a foam mattress. 
A platform bed is an excellent alternative to a box spring. It offers you the best of both worlds, i.e., the comfort of a solid foundation and a bed frame that keeps your mattress off the ground and is convenient to climb in and out of a mattress. In addition, the height of a platform bed can be customized according to your requirements, and they are suitable for modern mattresses, such as hybrid, memory foam mattresses, and more. 
A mattress foundation can be a solid one or made of wooden slats. While they function almost like a box spring, the difference between box springs vs slats is that slats don't have springs. 
You can use memory foam, latex, or even a hybrid on a slatted foundation; however, the distance between the slats should be minimal. 
But do you need slats with a box spring? The answer is yes unless your box spring can offer the right support on its own.
Box Spring Alternatives
If a box spring isn't ideal for you, you can always switch to these alternatives to box springs! Some of these options are economical and comfortable too.
Metal frames can be a great option instead of a box spring because they add a contemporary boho vibe and are entirely affordable. However, metal frames either come with a solid surface or slats; therefore, it is essential to ensure that your mattress goes well with this foundation.
Adjustable beds are simply wonderful. They come with a plethora of features that guarantee optimal comfort, such as you can choose elevation as per your preference; they come with massage features and more. 
An adjustable bed is a great option for people with health issues. They can rest their legs, neck, or back in a prescribed way. In addition, they help in regulating blood circulation for bedridden patients.
A bed frame with storage features underneath can be a great solution if you need extra storage options. 
Wood slats enhance the comfort of the mattress. These can be either temporary or permanent, depending on the type of foundation you take.
Are box springs necessary?
Well, there are many scenarios where you would need a box spring. You should know by now whether or not you need a box spring. Even if you are just looking for options, you know, the pros and cons of box springs and when to invest in them. So, why use a box spring? While they are suitable for traditional mattresses, such as an innerspring, other mattresses offer the best comfort when paired with a solid foundation.
This article is for informational purposes and should not replace advice from your doctor or other medical professional.
Shop Our Most Popular Bedroom Must-Haves