For every person, who falls asleep immediately after hitting the pillow, countless others struggle to fall into a slumber. Using a weighted blanket is an innovative method used by people to overcome the problem of falling asleep.  
The first question that comes to the mind of potential users is, what does a weighted blanket do? It is believed that weighted blankets can help people suffering from insomnia and anxiety sleep better. This article provides information to help resolve any doubts that people might be having about do weighted blankets work and their uses, benefits, and buying tips.
How Do Weighted Blankets Work?
Before learning about how do weighted blankets work, it is essential to understand what they are. As the name suggests, weighted blankets are blankets that are heavier than regular blankets. The heaviness is ensured by filling them with beads or pellets made from glass, steel, or plastic. The weight of these blankets ranges between 15 pounds and 30 pounds.
The weighted blanket was invented by Keith Zivalich in 1997, although the first blanket was sold only in 1998. Zivalich got the idea to create this gravity blanket when his 10-year-old daughter draped a Beanie baby on his shoulder during a long road trip with his family. The weight of the little beads placed inside the stuffed toy made Zivalich feel like he was being hugged. It also made him feel relaxed and think about a blanket filled with such beads. Zilavich and his wife Lynda developed and tested many prototypes before they came out with the final product.
Getting on to why weighted blankets work, they use the principle of providing deep pressure stimulation to help the users sleep. The blankets help the body release hormones that calm it naturally. These include serotonin, dopamine, and specific neurotransmitters in the brain that make people feel good. The blankets also help reduce the secretion of cortisol, a natural stress steroid produced by the body. The combined effect of these hormones helps to reduce anxiety and encourage sleep. They make it easier for people to feel relaxed and fall asleep by reducing neural activity and enhancing impulse control. 
Benefits of Weighted Blanket for Kids
Most parents want to know the answer to whether weighted blankets work for toddlers and older kids before investing in one. Yes, these blankets work for kids of all ages and prove beneficial for them in the following ways.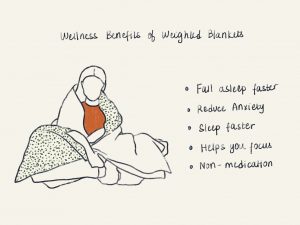 Weighted blankets help toddlers and kids to sleep better. In addition, the blankets create the effect of being hugged, which makes the children using them feel safe at night.
Many children facing anxiety issues find it difficult to fall asleep. A weighted blanket can help relax such children's bodies and minds, enabling them to enjoy a good night's sleep.
Children tend to toss and turn a lot during their sleep which makes keeping their blanket on extremely difficult. Weighted blankets minimize the movement of the kids and keep them covered through the night.
Weighted blankets can make the kids feel warm and cozy at night. They do not fall off easily and hence prevent the children from feeling cold or facing the need to adjust their blank frequently.
How to Choose a Weighted Blanket
With the wide choice of options available in the market, choosing the right weighted blanket can be quite overwhelming. Given below are some tips to help make a choice simpler. 
The most important thing to consider while choosing a weighted blanket is its weight. Ideally, a blanket that weighs around 10% of the users' body weight is deemed to be perfect for use by both kids and adults.
Before investing in a weighted blanket, buyers should also consider their sleeping habits. The blankets are suitable for buyers who feel cold at night or move around a lot in their sleep. Such people can enjoy a comfortable and relaxing sleep by using weighted blankets.
Another essential aspect to consider while choosing the suitable weighted blankets is their price. These blankets are available in different budget ranges based on their material, type of filling, and weight
How Weighted Blankets Work for different Health Issues
Due to the lack of ample research, there is still much speculation about do weighted blankets work with sleep disorders. However, there are some specific conditions where using weighted blankets has proven effective. The most common health issues that cause sleep disruption are mentioned below and where weighted blankets can prove beneficial.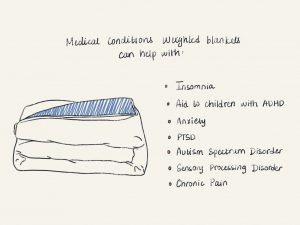 The answer to do weighted blankets work for anxiety is yes. The blankets make the users feel safe by providing them a warm embrace and reducing anxiety symptoms. In addition, the enhanced secretion of feel-good hormones resulting from the use of weighted blankets helps to combat the symptoms of anxiety and depression among users.
Weighted blankets help reduce the symptoms of restless leg syndrome, wherein the patients feel an overwhelming need to move their legs, especially at night. So for people wondering about - do weighted blankets work for restless leg syndrome, can rest easy as the answer is yes. The blankets help to weigh down the legs of the users, which, in turn, prevents excessive movement and causes minimal sleep disruptions.
People who have insomnia find it difficult to fall asleep and stay asleep for long. This makes them feel sleepy during the day, impacts their energy levels, and causes frequent mood swings. The use of weighted blankets is known to improve sleep duration in people who have insomnia. This has helped erase people's doubts about do weighted blankets work for insomnia.   
The overstimulated mind of people who have autism makes it difficult for them to fall asleep. This is especially true in the case of children suffering from the ailment. Such children face severe sleep problems, which raises the question of do weighted blankets work for autism. Thankfully, the answer to this question is yes, as these blankets were proven to help children with ASD sleep better.
The hyperactive mind, which is quite difficult to calm down, can make people suffering from ADHD quite restless and sleep-deprived. The use of weighted blankets in children who have ADHD are known to help them sleep more quickly. A study conducted on 67 children, where half of the participants had ADHD (attention deficit hyperactivity disorder), demonstrated improvements in their nighttime sleep since they were able to sleep faster and better throughout the night. This amply answers the question of do weighted blankets work ADHD for potential users.
OCD is characterized by persistently obsessive thoughts and behaviors and affects 1 in every 40 adults. Low serotonin levels have been found to cause OCD as it prevents the mind from being calm. Since using weighted blankets helps to increase serotonin levels , they can provide relief from the symptoms of OCD.
Panic attacks can disrupt the smooth life functioning of people and enhance their stress levels significantly. People experiencing these attacks feel insecure and anxious. Using weighted blankets can help such people make them less nervous and calm them down. The warm hugged feeling of these blankets makes people suffering from such attacks feel safe.
Summing Up
Using a weighted blanket can help improve the quality and quantity of sleep quite significantly, especially for those who struggle to sleep normally. While these blankets are suitable for people suffering from various health issues, they are also an excellent choice for those seeking coziness and comfort.
Disclaimer: This website does not offer medical advice nor professional medical services; rather, it is provided solely for educational, informational, and/or entertainment purposes. Individuals seeking medical advice should consult a licensed physician. The information provided should not be used for diagnosis or treatment of any condition, disease, or injury. When you have a medical condition, you should always talk to licensed doctor or other certified medical professional. You should never delay seeking professional medical advice or treatment based on the contents of this website. Call 911 or immediately go to the nearest emergency room if you think you may have a medical emergency. The contents of this website are provided "as-is", Dreamcloud Sleep and its parent, subsidiaries, affiliates, employees, contributors disclaim any warranty of the information contained herein. Please contact support@dreamcloud.com to report any errors, omissions, misinformation, or abuse.
Shop Our Most Popular Bedroom Must-Haves