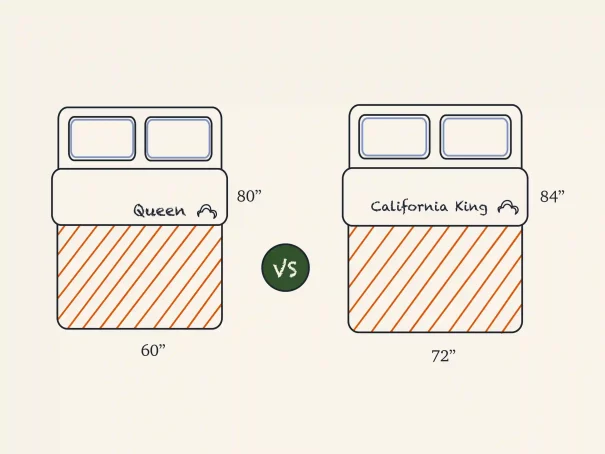 California King vs Queen Size Mattress: What Is the Difference?
Written by Dreamcloud Editorial Team
Last Updated on Mar 13, 2023
Some life decisions can be challenging, such as the age-old battle about the California king vs Queen mattress. Remember the days when you first bought your dream house and sat down to discuss with your spouse what would suit your master bedroom the best - between queen and California King mattresses? Choosing between queen vs California king can be a baffling decision if you are unaware of your room size, additional furniture, and future needs. To simplify, read ahead!
California King vs Queen- What's the Difference
The California king mattress is 4 inches longer and 12 inches wiser than the Queen mattress. A queen bed measures 60 inches wide and 80 inches long, making it an impeccable decision for a single adult or a couple. Whereas, a California king size mattress measures 72 inches wide and 84 inches long, making it spacious enough for accommodating two adults and a pet.
| Basis of Distinction | California King | Queen |
| --- | --- | --- |
| Length | 84 inches | 80 inches |
| Width | 72 inches | 60 inches |
| Surface Area | 6, 048 square inches | 4, 800 square inches |
| Occupancy | Popular among taller couples | Popular among single sleepers; Couples may not find it roomy enough |
| Room Size | Best for master bedrooms | Best for smaller bedrooms |
| Price Range | $700-4000 and above | $500-3000 |
| Ideal for | Taller people | Couples sleeping with a pet |
| Other names | Western King | - |
What is Queen Size Mattress?
A queen-size mattress is perfect for a single sleeper, as they can even sleep diagonally, tucking in all the pillows and soft toys they have. A couple may find the queen-size mattress beneficial if they cannot fit in a California King because of space or finance crunch. 
A single adult will have immense space to simply roll over twice or thrice and have a good night's sleep; A couple can sleep together and have around 30 inches of personal space left for them (cuddly cum independent sleepers - this is precisely what you need) - This is how a queen size mattress can be defined. Furthermore, a queen size bed is appropriate for 10 feet by 10 feet room size. 
Pricing is undoubtedly a driving factor in the decision-making about California King vs Queen. However, if you are a couple or a single sleeper who has just started working and not looking for something extravagant, blindly trust the queen-sized mattress. 
Pros
Amazing option for single sleepers

The couple can also accommodate themselves 

You will get abundant room space after the placement of a queen bed

It will be pretty manageable in terms of money

An excellent option for your guest room - one can sleep as well as sit during any party
Cons
Between a California king vs queen, opt for the latter one if ample space is a necessity

It might also put a hindrance in motion for certain sleepers 

Couples might not be able to sleep with their paw babies
What is a California King Size Mattress?
Welcoming the second largest mattress in the world - California King Size Mattress (drum rolls please). Let us walk down the path of the history of the California king size mattress. It was right after World War II when the inception of the California king mattress took place especially curated for master bedrooms. Cal king bed is also known as the Western king, for it was first made in Los Angeles, California. 
Coming to the accommodation, a California king mattress is broader and more elongated than a standard king size bed. For all those tall couples out there needing more leg space, stop getting perplexed with the thought of opting between California king vs queen; simply opt for the former one as this is the best bed size for couples. 
If you are one of those luxury first couples, then be ready to splurge some of them on the California King mattress. Moreover, there is also an option for a split Cal king bed that can suit individual preferences, and one doesn't have to bargain with the comfort. 
Pros 
Taller couples - make your way for the Cal king bed

The bed sizes of California king beds are pretty huge to accommodate a couple needing ample leg space 

When choosing between California king vs queen, opt for the first one if you are looking for a compatible bed with having an adjustable base

These oversized mattresses go hand in hand with your large master bedrooms

 
Cons 
California king size mattresses can sometimes be huge for some master bedrooms

Between the California and queen mattresses, the former is a bulkier and heavier one. Therefore, it becomes difficult to move for certain sleepers.

It can be a tad bit or even more expensive than a queen bed.
Factors to Consider When Deciding Between a California King and Queen
Gone are the days when you would be whimsical about your decisions and leave it to your parents. A crucial part of growing up is choosing your things, and yes, selecting between queen vs California king also falls under that (Sigh!) Anyway, let us not make it harder for you all; we have eased the process of understanding the difference between a queen and a California king and deciding what to opt for.
Price:


Pricing seems to be the most significant factor in determining what you would buy. A queen mattress ranges from around $500 to a whopping $3000. If you are on a tight budget, you can skip purchasing a California king bed. Though both of them don't have a massive price difference, a queen bed is still more economical than a Cal king bed because the manufacturers don't assemble much ingredients to make the former.



Room Size:


A pretty important factor is your room size. You need to acknowledge your room size and if the bed sizes would fit. For example, having 10 feet by 10 feet room size, a queen bed would seamlessly fit in. On the other hand, it will be suffocating if you try to push a California king mattress into any room smaller than 12 feet by 12 feet.

Sleeping Partner:


This factor is quite essential for a couple. If your partner is on the larger or taller side, switching to the California king mattress is the best. Otherwise, a queen mattress works just fine.
Which is Better King or California King?
This is a typical question people ask whether the California king bed is better than a standard king bed. Though it may seem that a Cal king bed is bigger than a king-size bed, the surface area of the latter is greater. King size beds are perfect for couples and also provide greater split options.
Disclaimer: This website does not offer medical advice nor professional medical services; rather, it is provided solely for educational, informational, and/or entertainment purposes. Individuals seeking medical advice should consult a licensed physician. The information provided should not be used for diagnosis or treatment of any condition, disease, or injury. When you have a medical condition, you should always talk to licensed doctor or other certified medical professional. You should never delay seeking professional medical advice or treatment based on the contents of this website. Call 911 or immediately go to the nearest emergency room if you think you may have a medical emergency. The contents of this website are provided "as-is", Dreamcloud Sleep and its parent, subsidiaries, affiliates, employees, contributors disclaim any warranty of the information contained herein. Please contact support@dreamcloud.com to report any errors, omissions, misinformation, or abuse.
Shop Our Most Popular Bedroom Must-Haves