Bed Sheet Sizes and Dimensions – The Ultimate Guide
Posted By Vaibhavi K on Jun 30, 2021
Buying a new bedsheet goes beyond deciding the color, fabric, texture, pattern, and cloth type. There is no point in getting a bedsheet that ticks all the boxes but does not fit your mattress well.
Bedsheets have different size variations depending on the brand. It is easily manageable if your comforter or duvet is a couple of inches off, but your bed sheet should match correctly with your mattress so it won't look shabby or fall off.
Our guide will take you through the most common bed sheet sizes to refer to while buying your next bedsheet.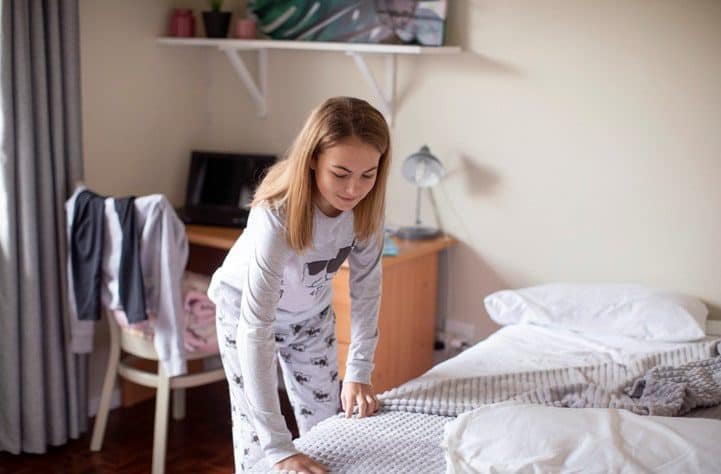 Bed Sheet Sizes Chart
The chart below lists the most common bed sheet measurements along with their mattress dimensions.
Even though there is no standard bed sheet sizes in USA, most brands tend to have similar measurements. Do note that flat bed sheet sizes differ from fitted sheets. Check the chart below to know the difference.
| | | | |
| --- | --- | --- | --- |
| Bedsheet Type | Mattress Size (inches) | Fitted Sheet (inches) | Flat Sheet (inches) |
| Crib | 28 ⨯ 52 | 28 ⨯ 52-54 | N/A |
| Twin | 38 ⨯ 74 | 39-40 ⨯ 75-76 | 60-75 ⨯ 90-102 |
| Twin XL | 38 ⨯ 80 | 39-40 ⨯ 80 | 60-75 ⨯ 102-114 |
| Full/ Double | 54 ⨯ 75 | 54-55 ⨯ 76 | 84-90 ⨯ 90-96 |
| Queen | 60 ⨯ 80 | 62 ⨯ 82 | 92-102 ⨯ 88-115 |
| King | 76 ⨯ 80 | 78 ⨯ 82 | 102-110 ⨯ 88-115 |
| California King | 72 ⨯ 84 | 73 ⨯ 84-85 | 108-111 ⨯ 102-114 |
Bed Sheet Dimensions for Each Size
Let us understand bed sheet dimensions for each size in detail.
1. Crib Size Sheets Dimensions
Crib size sheets are thin and best suit crib mattresses for your kids. However, you would not find crib size flat sheets as toddlers do not sleep with flat sheets. Fitted sheets can measure close to 28 inches wide and 52-54 inches long for crib mattresses.
2. Twin Size Sheets Dimensions
Twin Size Sheet Dimensions are 39-40 inches by 75-76 inches. Children and teenagers use twin-size sheets. Adult sleepers with limited space also use this type of sheet.
Do note that some brands refer to twin bed sheets as single bedsheets, the traditional name of twin bed sheets.
3. Twin XL Sheet Size Dimensions
Twin XL Sheet Dimensions are 39-40 by 80 inches. They are extensively used in college dorms and are a good fit in any bedroom, suitable for bunk beds, and suit the personalities of college students. The Twin XL flat sheet is typically between 60-75 by 102-114 inches.
4. Full/Double Size Sheets Dimensions
Full-size fitted sheet dimensions are 54-55 by 76 inches. They are 16 inches wider than a twin-size sheet. If you are a solo sleeper and require more space, a full-size sheet is ideal for you. Although, it may not be comfortable for two sleepers.
5. Queen Size Sheets Dimensions
Queen size sheets measure around 62 by 82 inches. The dimensions of queen-size flat sheets are 92-102 by 88-115 inches. The Queen mattress is a good fit for two sleepers as well as for sleepers above 6 feet.
6. King Size Sheets Dimensions
King size sheet dimensions are 78 by 82 inches. The king-size flat sheet dimensions are typically between 102-110 by 88-115 inches. They are suitable for single sleepers, two adult sleepers, or parents with one child. Thanks to its large size, king-size sheets, and other bedding accessories are expensive.
7. California King Size Sheets Dimensions
A California king-size sheet dimensions are 73 by 84-85 inches. It has a different shape compared to King size sheets. California king beds are 4 inches longer than king-size beds, so you cannot use king-size sheets for California king beds. They are suitable for extra tall adults.
How to Measure the Sheet Size You Need?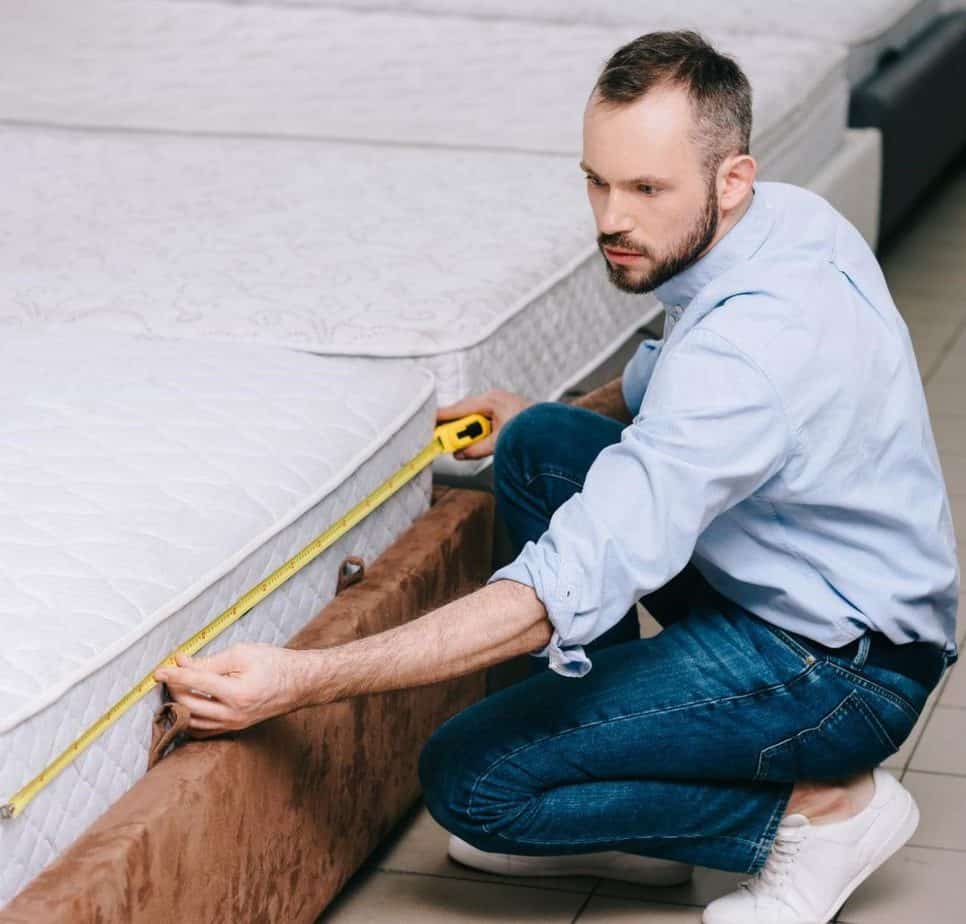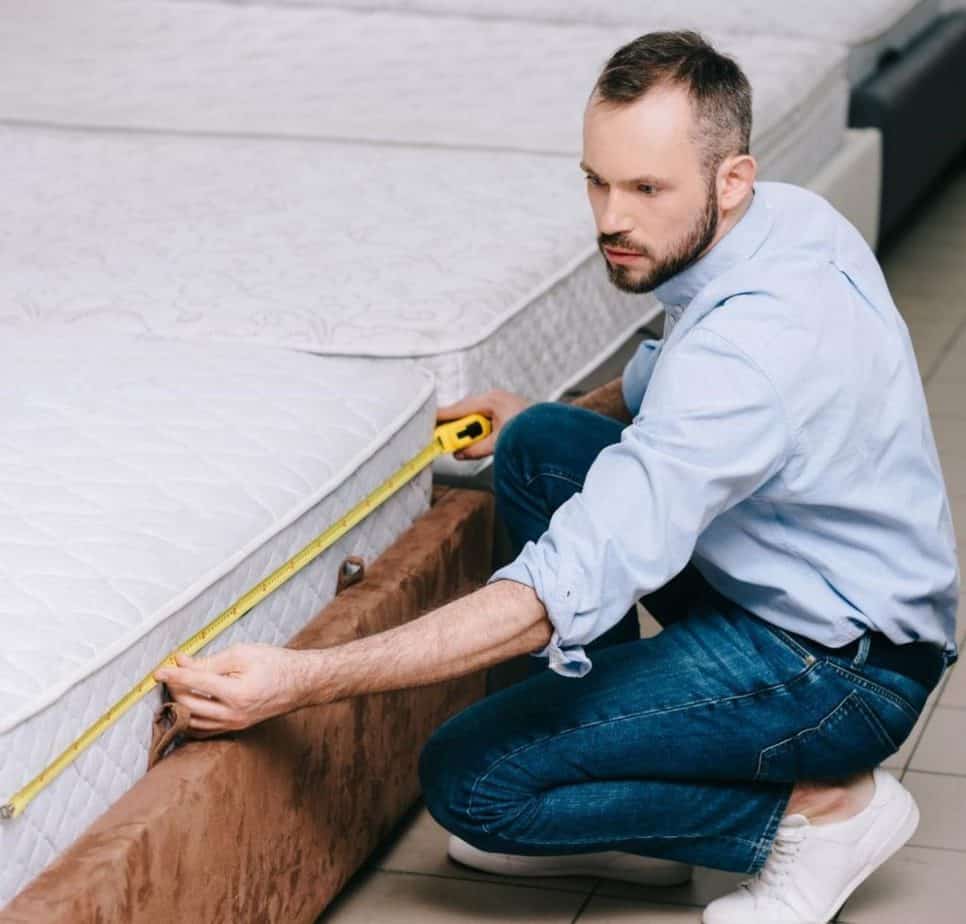 After going through all the standard bed sheet sizes, if you are still unsure whether a fitted sheet will match your mattress, you can measure it and figure it out.
Confused about how to measure a bedsheet? We have covered steps for you in our guide below.

Strip the sheets from your bed and measure the width, length, and height of your mattress. Include mattress toppers, if any. Note down these dimensions. Your fitted sheet should be equal to or be somewhat larger than these dimensions.
In the next step, measure your fitted sheet. Place the sheet out and find out which side is the longer one. Measure it with tape to get the length of your sheet. Measure the shorter side from one corner to the other to get the width. Get your fitted sheet and measure along the pocket seam to get the height of your sheet.
Compare the measurements of your sheet with the mattress. If the sheet size is equal to or slightly larger than your mattress, the fitted sheet will match perfectly. If it is much larger than the mattress, the sheet might bundle up and come off. In case it is smaller, the sheet may not fit.
Types of Sheets
You might get confused between a fitted sheet and a flat sheet. Let us run through the types of sheets to overcome this confusion.
1. Fitted Sheets
A fitted sheet fits perfectly onto your mattress. It comes with elastic on the sides to get a perfect grip.
Fitted sheets need to be accurate to match the mattress dimensions. If the fitted sheet is too big, the sheet might bundle up. If it's too small, it will not cover the mattress.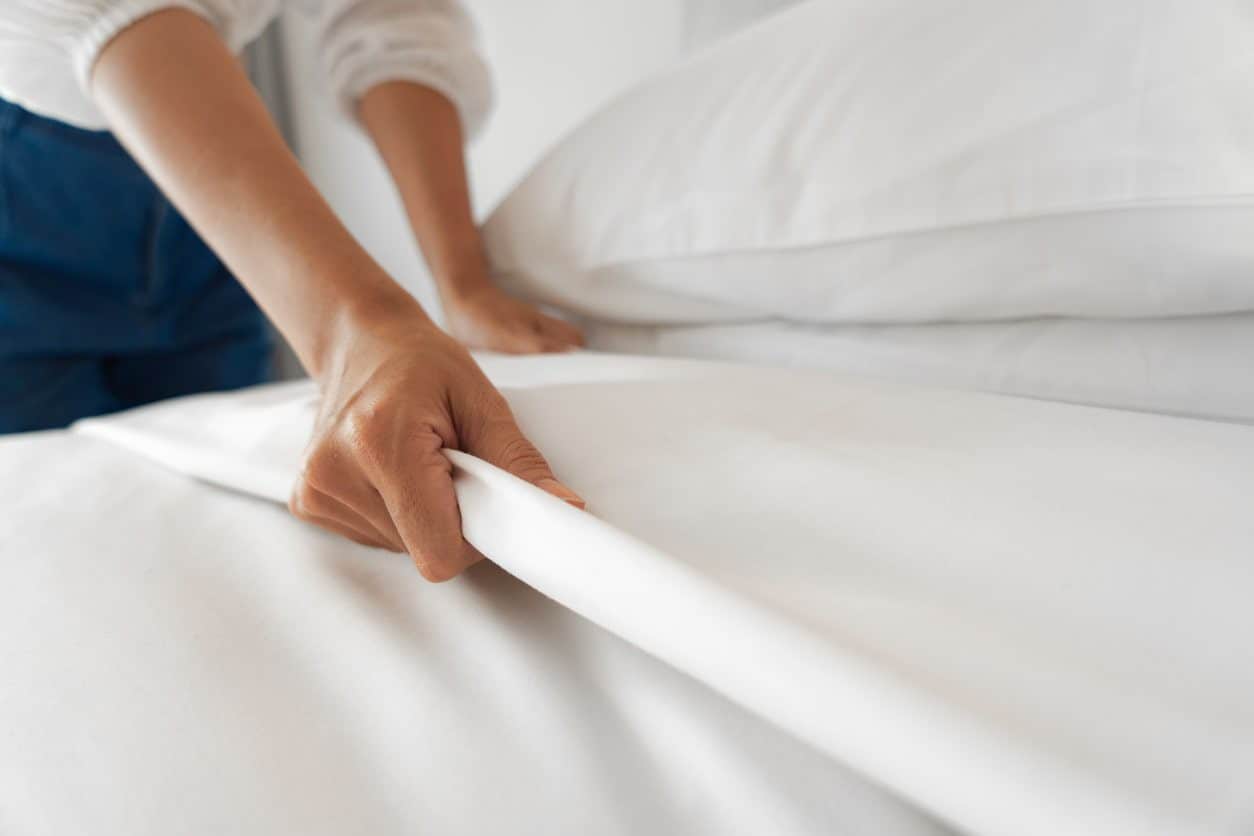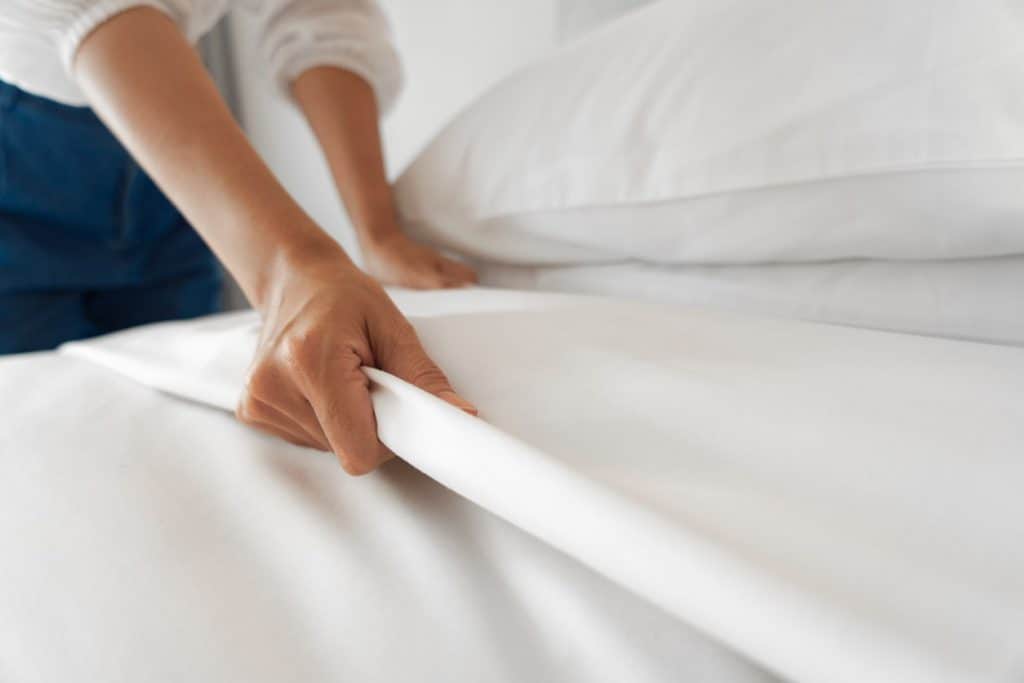 2. Flat Bed Sheets
Flatbed sheets refer to sheets that lie flat on the mattress. They need to be larger than the mattress. You can fold and tuck the extra fabric on the sides under the bedding.
3. Bed Skirt
A bed skirt refers to a fabric that encloses around the bottom of the mattress. It hides the space between the mattress and the floor of the bed. It helps to cover the box spring and any other items that hide underneath your bed in storage.
Bed Sheet Buying Guide – How to Choose the Right One?
We have mentioned a few factors that will help you buy the perfect Bed Sheet for your mattress.
Depth or Thickness of Mattress
It is significant to know the depth of your mattress when shopping for new sheets as it might change the fit of standard sheets. Depth of mattress refers to the thickness of the mattress.
There are three types of mattress depth:
Standard Mattress – thickness 7 to 12 inches
Deep Mattress – thickness 13 to 17 inches
Extra Deep Mattress – thickness 18 to 25 inches
Thread count refers to the number of threads per square inch of the sheet. The higher the yarn count, the more long-lasting the sheet will be. With the increase in thread count, the softness of the sheet also increases. Try to find sheets that have a thread count between 200-800.
Check out our blog on What are the best thread count sheets to buy to know more.
The most significant factor while buying a Bedsheet is the fabric type.
Bed Sheets come in natural fibers like cotton sheets that are breathable, cold, soft, and keep your skin dry.
Egyptian cotton is the most famous fabric. It is one of the most luxurious fabrics available in the market and has excellent qualities like softness and durability. Jersey Knit sheets are made of natural or synthetic cotton and are knitted instead of woven.
Synthetic sheets like Polyester sheets are known for their strength and stain-resistant properties. Microfiber sheets are soft and warmly produced from tightly woven synthetic fibers.
Bamboo Rayon sheets consist of chemically treated bamboo and have excellent temperature regulation properties. Satin sheets are soft sheets made from different materials like cotton, sink, polyester, or wool.
The weave affects the look of your sheet, its feels, and its overall durability.
Percale sheets come with a plain weave and have an equal number of vertical and horizontal threads woven together. These sheets are known for their long lifespan and crisp feel.
The sateen sheet has more vertical yarns than horizontal. These types of sheets are ultra-soft.
Twill weaves refer to threads with two over and one under to create a diagonal boundary on one side of the fabric. These linens are soft and tend to hold their shape well.
The Final Word
By now, you might have understood the science behind the bed sheet sizes. We are sure that you can easily purchase a bed sheet and know that it will fit excellently onto your mattress. So what are you waiting for then? Get a new bed sheet today and jump into the world of comfort and relaxation.
---
Check out Luxury Cotton Sheets for premium comfort and ultimate relaxation.
---
FAQs
What are the different-sized queen sheets?
Typically, queen-sized mattresses are 60 by 80 inches. A half queen mattress has unique dimensions- 30 inches wide and 80 inches long. You need to find half-queen fitted sheets to match this type of mattress. A California queen bed is 60 inches wide and 84 inches long. For this size, you will need to buy fitted sheets that are 60 inches by 84 inches.
How often should you wash your sheets?
Experts recommend washing your sheets at least once per week. For some people, especially those who share the bed with a pet or a child, it is recommended to wash the sheets twice a week.
What is the best bed sheet fabric?
According to experts, Egyptian cotton is the best fabric for bed sheets.
What is the best thread count for sheets?
The best thread count for sheets ranges anywhere between 200- 800.