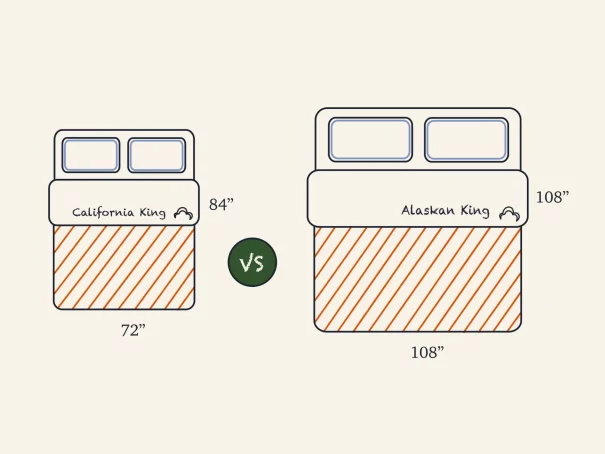 California King vs Alaskan King Size Mattress: What's the Difference
Written by Dreamcloud Editorial Team
Last Updated on Mar 13, 2023
If you are someone who has never encountered the term Alaskan King bed, then chances are high you would be perplexed between Alaskan King vs California King. Knowing the difference between an Alaskan king bed and California king is essential to make buying effortless during your next mattress showroom visit. 
Not only a California King, but an Alaskan bed is also bigger than a King size bed. The Alaskan bed is often confused with the California King because of certain similar features. If you are tired of the cramped space of a full bed, and the queen bed is also not working, it might be time for you to consider the Alaskan King bed size. 
Read further to know the details of cal king vs Alaskan king. 
Alaskan King Vs California King Mattress Size Comparison
In California King vs Alaskan King, the Cal king is smaller than the Alaskan mattress. The Alaskan mattress is 24 inches longer and 36 inches wider than the Cal King mattress. While a California King measures 72 inches wide and 84 inches long, the Alaskan King bed measures 108 inches by 108 inches, i.e., 9 feet. 
Alaskan King bed vs California King bed comes with diverse features that create the difference. However, both of these beds fit specific requirements. To understand if you are looking to select between these two, continue reading.
Alaskan King Vs California King Size Comparison Chart
| Parameter | California King | Alaskan King |
| --- | --- | --- |
| Length | 84 inches | 108 inches |
| Width | 72 inches | 108 inches |
| Surface Area | 6,048 square inches | 11,664 square inches |
| Price Range (in USD) | $ 800 - $ 3,500 | $ 2,000 - $ 6,000 |
| Occupancy | 2 adults + 1 pet or child | 2 adults + 3 to 4 children, or 4 adults |
| Ideal for | Small families (and stomach or back sleepers) | Large families / Plus-sized couples (and side sleepers) |
| Minimum Room Size | 12ft X 10 ft | 16ft X 16ft |
| Other names | Western King | - |
What is an Alaskan King Bed?
If you are a family looking for a single bed to accommodate everyone, then the Alaskan king bed size is the one. The Alaskan mattress size bed can accommodate a couple, a kid, and a pet. An Alaskan King bed is a great way to save your money as you can fit your kid, partner, and pet, and you don't have to come across the hassle of buying multiple beds. Like everything, the Alaskan King mattress is filled with pros and cons as well. 
Pros:
Couples will find this bed pretty spacious to accommodate and get more personal space

It's quite overwhelming to have such a big mattress and the excitement doesn't really wear away

Spacious enough to let you co-sleep with family and pets
Cons:
An Alaskan King bed dimensions are way too bulky to adjust in the majority of the rooms because let's admit, we occasionally own such big rooms. 

It is quite high in price and you need to incur even additional costs for mattresses, pillows, and more products.

It will take a lot of people to move the bed.
What is California King Bed?
A Cal King Size bed provides quite some space at a comparatively affordable price. Let us check some of its pros and cons.
Pros:
It is quite economical in pricing, thereby offering many people the opportunity to buy it. 

You will come across a Cal king size bed in every other mattress showroom where you will get a queen or king bed.

Since it is slightly smaller in dimension, it is easier to fit in the bed.
Cons: 
It is not as huge as an Alaskan bed but still big enough to effortlessly accommodate a couple.

Cannot accommodate large families
How to Choose Between a California King and an Alaskan King Bed?
There are certain factors to consider when choosing between California King and Alaskan King bed. Comfort cannot always be the top priority, there are factors like price, occupancy, room size and more. Alaskan King vs California King can be a tough choice but we have noted the following factors to decide accordingly. 
Are you Sleeping Alone or With a Partner?
Are you sleeping with your partner and are a cuddly sleeper but need slight space of your own? Then the California King bed is the one for you. The Cal King bed is quite spacious for accommodating you and your partner only if you both cannot stay apart on the bed. But, if you are more like an 'I-Need-More-Space', kind of a person then the Alaskan King is more suitable for you. If you are a couple sleeping with your kids then Alaskan King is the choice. 
What Exactly is the Size of your Room?
Oversized mattresses can be pretty abundant in space but will your room be able to shelter the space? Well, unless you are planning to place a wall-to-wall mattress, you need to have at least 2 to 3 inches of space on the three sides of your bed to move freely. Moreover, you also need to consider the space engulfed by the mandatory furniture as well. 
When it comes to Alaskan vs California King, the room size requirements are as follows:
A Cal King bed would be perfect for a 12 ft by 10 ft room

Whereas, an

Alaskan king size bed

would be suitable for a roomy 16 ft by 16 ft
All in all, whatever mattress size you choose, ensure you have enough space to move and are complacent with the choice.
How Much Can You Spend?
Cutting down the chase, an Alaskan King size bed is uncommon in the sense that it has an unusually large size. It is because of this that you will not generally come across a proper Alaskan king-size bed frame, box spring, and cover set. Even if you get it, it will be very on the pricier side for sure. This is applicable to all the oversized mattresses available on the market. If you are having a slight budget constraint then settling down with a California King bed is always a more suitable option for its plentiful space and affordable price.
When it comes to Alaskan King vs California King it can be stated that the former is a good fit for someone who would like to invest in a single mattress than finding a new one for their kid or pet. On the other hand, the latter is the most convenient for a couple.
Disclaimer: This website does not offer medical advice nor professional medical services; rather, it is provided solely for educational, informational, and/or entertainment purposes. Individuals seeking medical advice should consult a licensed physician. The information provided should not be used for diagnosis or treatment of any condition, disease, or injury. When you have a medical condition, you should always talk to licensed doctor or other certified medical professional. You should never delay seeking professional medical advice or treatment based on the contents of this website. Call 911 or immediately go to the nearest emergency room if you think you may have a medical emergency. The contents of this website are provided "as-is", Dreamcloud Sleep and its parent, subsidiaries, affiliates, employees, contributors disclaim any warranty of the information contained herein. Please contact support@dreamcloud.com to report any errors, omissions, misinformation, or abuse.
Shop Our Most Popular Bedroom Must-Haves