If you're shopping for a bed for a large family who loves to co-sleep, the Alaskan king bed and its attractive features might've popped up quite a lot. And it does so for all the good reasons. But what is an Alaskan king bed? Alaskan king size bed is the biggest mattress size available for purchase that can easily fit your family, your little one, and a pet while still leaving enough space to stretch around leisurely. 
However, if you're still in doubt, read on! We've covered everything you can need to make an informed decision
What Is an Alaskan King Bed?
Alaskan bed or Alaskan king bed mattress is the largest oversized mattress available on the market. It measures 108 inches wide and 108 inches long, making it the biggest bed globally. It is the perfect choice for families whose members wish to sleep together while still having enough personal space.      One can quickly shift or change their position on the bed without disturbing the others. Couples with different sleeping preferences and waking up patterns also choose this bed.
How Big Is the Alaskan King Bed Mattress?
Alaska is the largest state in the US; hence, the Alaskan King bed is the most extensive size available. But how big is the Alaskan king bed? The Alaskan king bed's dimensions are 9 feet by 9 feet. Compared to other oversized beds too, the Alaskan king bed is the biggest one out of all available options.
Benefits of Alaskan King Bed
No bed is designed as big as the Alaskan bed without serving some unique benefits. Its advantages include:
Comfortable Sleeping Space for The Entire Family
If you've children who are afraid to sleep alone, this bed can be your savior. With enough room, you can fit yourself, your partner, and your two children while still having personal space not to feel suffocated. 
Before sleeping, you can spend some quality time with your family on the bed. Spread out some board games in the middle and sit around to have a fun evening. 
Ample Personal Area for Couples
Even if just two of you share the bed, buying this bed can be a good idea. It has ample space to feel as if you're practically alone on the bed. With so much gap, the motion transfer is significantly reduced. So, you won't be spoiling your sleep if your partner gets up in the middle of the night or changes their position. 
Can Accommodate Pets
Some people are reserved about putting pets on the bed for the fear that they'll move around in the night and get hurt. You don't need to worry about it anymore with an Alaskan bed. It is the biggest bed size that can fit you, your kids, and your pet without anyone intruding on anyone's place. 
Your pets, too, would get a comfortable night's sleep on a comfy bed without the fear of being pushed around in the night.
Things to Consider While Buying an Alaskan King Bed
By now, you're well aware of how the Alaskan bed would be able to serve your needs. So, if you plan to invest in one, then there are certain things you would've to keep in mind. They include:
Room Size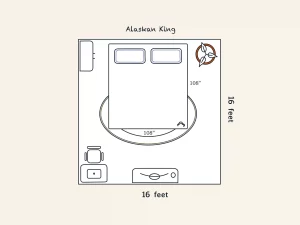 You're already aware of the sheer size of the bed occupying space in your room. So, even if you find the bed comfortable, you need to have enough space to accommodate it with all your other items. 
For a bed of 9 by 9 feet size, you'll need at least 16 by 16 feet room size. If your room has that space, you can promptly buy the bed. But for any room with fewer dimensions than that, you should reconsider and go for a smaller bed. 
Bed Frame
To ensure the maximum longevity of your mattress, you need to have a proper bed frame installed. Buy one before you make the final bed purchase so that you already have a structure to put it into. Making the purchase later would leave you with a stray bed and no place to keep it. 
Mattress Types
Before anything else, you need to sort out your mattress types. There is an array of choices out of which you can pick your favorite. Organic mattresses made purely out of cotton or wool keep the allergens away.
However, if you suffer from a back problem, a hybrid mattress might be good. 
Cost
Your expenses won't stop at just buying the Alaskan bed. You'll also have its bed frame, covers, sheets, and box spring. These are rare finds as Alaskan beds aren't easy to spot. Hence, you'll probably have to ship them over from other states or get them customized. So, keep in mind these additional costs as well.
Other Oversized Mattresses
Of course, while the Alaskan king is the biggest oversized mattress on the market, there are several other giant mattresses. These include Wyoming king, Texas king bed, and California king bed. 
Giant Mattresses Comparison Chart 
To help understand the differences refer to the Wyoming king vs Texas king bed vs Alaskan king bed size chart below:
| Parameters | Alaskan King | Texas King | Alaskan King |
| --- | --- | --- | --- |
| Length | 84 inches | 98 inches | 108 inches |
| Width | 84 inches | 80 inches | 108 inches |
| Recommended Room Size | 12 by 12 feet | 12 by 14 feet | 16 by 16 feet |
Alaskan King - Pros and Cons 
Alaskan king is an enormous bed on the market, with dimensions of 108" by 108" inches. 
Pros
Perfect for big families who like sleeping with pets or children

Ideal for taller people

Spacious bed for couples
Cons
Required large room space

Expensive
Wyoming King - Pros and Cons
Also known as the emperor size bed, the Wyoming king bed is the third-largest bed. It is 84 inches wide by and inches long. 
Pros 
Suitable for couples with 1 to 2 children

Tall sleepers will find it comfortable

It fits in standard-sized rooms
Cons
It cannot fit large families
Texas King - Pros and Cons
The Texas king bed is the most spacious bed for taller individuals who like more feet space. 
Pros
Perfect for the tall sleeper

It fits in smaller bedrooms

Comfortable for a nuclear family
Cons
Cannot fit a family with more than two children

Out of all options, this is the narrowest
| Parameters | California King Bed | Alaskan King Bed |
| --- | --- | --- |
| Size | 84 in X 72 in | 108 in X 108 in |
| Features | Top-quality sleep, can fit in any room | Biggest mattress available, made for co-sleeping with family |
| Pros | Less expensive, suitable for tall people | Accommodates a large family, ideal for tall sleepers |
| Cons | Cannot fit a large family, difficult to move in | Requires large space, very expensive |
Alaskan King Bed vs Double King Bed
Alaskan king bed comparison with the double king is:
| Parameter | Double King Bed | Alaskan King Bed |
| --- | --- | --- |
| Size | 75 in X 54 in | 108 in X 108 in |
| Features | Ideal for individual sleepers, fits in small rooms | The biggest bed available on the market, fits a large family |
| Pros | Most affordable, fits in any space, cheap accessories | Spacious for couples, pet owners, and for large families |
| Cons | Not suitable for tall people and large families | Requires a large space, expensive |
Conclusion
The Alaskan king bed is the perfect example of a bed that can fit every need of a large family or even couple. It gives enough space to couples who like to toss and turn around through the night. The Alaskan king bed measurements also match the needs of families who want to accommodate their children and pets while still having enough space. 
If you fit in any of these circumstances, go for the option with your eyes closed. Just keep in mind the cost of accessories and space required!
Disclaimer: This website does not offer medical advice nor professional medical services; rather, it is provided solely for educational, informational, and/or entertainment purposes. Individuals seeking medical advice should consult a licensed physician. The information provided should not be used for diagnosis or treatment of any condition, disease, or injury. When you have a medical condition, you should always talk to licensed doctor or other certified medical professional. You should never delay seeking professional medical advice or treatment based on the contents of this website. Call 911 or immediately go to the nearest emergency room if you think you may have a medical emergency. The contents of this website are provided "as-is", Dreamcloud Sleep and its parent, subsidiaries, affiliates, employees, contributors disclaim any warranty of the information contained herein. Please contact support@dreamcloud.com to report any errors, omissions, misinformation, or abuse.
Shop Our Most Popular Bedroom Must-Haves