Review sites are in love with the DreamCloud mattress experience and we can't blame them. With layers upon layers of premium luxury foam, patent pending "BestRest" coil system, and unbeatable customer service, it's clear why reviewers and mattress customers alike can't get enough of DreamCloud. We've taken a closer look at the differences between DreamCloud and the NECTAR mattress to bring you a comprehensive comparison in order to make the right choice for you and your unique mattress needs.
Disclosure: We pay a commission to the review sites listed below when visitors click on a DreamCloud affiliate link on their sites and make a purchase.

CONSTRUCTION / MATERIALS
DreamCloud is a plush, luxury, hybrid mattress that truly makes you feel like you're sleeping among the clouds. With its premium layers of foam and luxurious hotel-quality materials, you'll never want to sleep on anything else. Its classification as a hybrid mattress means that DreamCloud is comprised of foam and a foam-encased coil system, providing the perfect balance of softness and firmness. Besides the coils, it has 5 unique, high quality layers of super plush memory foam that cradles your body into a blissful sleep. The NECTAR mattress on the other hand only has five layers of foam and gel – including two gel layers, a supportive and adaptable layer, and a base layer – but does not feature the foam-encased coil system.
When it comes to materials, DreamCloud spares no expense. Our beautifully soft Cashmere blend cover is one of the most notably luxurious aspects of DreamCloud. Cashmere has a reputation for being a high quality fabric due to its rarity, softness, and its moisture-wicking abilities. This means that the Cashmere blend will keep you cool at night by pulling away any moisture or sweat during the night. DreamCloud also has a hand stitched Eurotop, making it look like an actual fluffy cloud. When it comes to high quality construction and materials, look no further than DreamCloud.
LAYERS
Compared to NECTAR's 5 layer system with only 4 layers of memory foam, DreamCloud offers 8 unique layers with 5 layers of specially designed memory foam crafted to maximize comfort. Those extra layers count when it comes time to lay down for a night of cozy slumber. Here is a breakdown of each of DreamCloud's plush layers: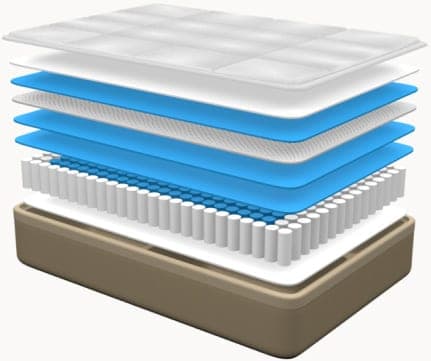 A True Tufted Cashmere Blend EuroTop: As breathable as it is soft, this beautiful cashmere blend top utilizes hand stitched tufting in order to bring you the coziness and coolness of the clouds.
Gel-Infused Memory Foam: This gel-infused layer helps keeps your temperature neutral throughout the night while contouring perfectly to your body keeping you snug and your spine supported.
Super Soft Quilted Memory Foam: Completely unique to the DreamCloud experience, this layer was created to cradle your back and help you drift off into a peaceful night of sleep.
Supreme Natural Latex: This natural latex layer provides an extra cushioning bounce and additional contouring to shape to your unique curves.
"Dream Plush" Supporting Memory Foam: A layer of deep, luxurious, plush support. This layer is your one way ticket to dreamworld.
Super Dense Super Soft Memory Foam: Balancing out any sleep position you prefer, this layer supports and relieves pressure points throughout the night
Patent-Pending "BestRest" Coils: Balancing out plushness to meet with perfect firmness, our 5-zoned foam encased micro coil compression system is unmatched in the field. It aims to keep you supported and comfortable from head to toe.
High Density Super Soft Memory Foam: Super dense supportive foam that keeps your back aligned and lovingly supported.
TRIAL PERIOD
Both DreamCloud and NECTAR have a 365 day trial period, which is almost unheard of in the mattress industry. You can try out each mattress for an entire year with zero risk. Other mattress companies tend to have a short, 100 day trial period, which means that you are only really able to try out the mattress for three months or one season. Both DreamCloud and NECTAR allow you to test out their mattress during every season, which can be extremely important, especially if you sleep hot. Testing out the mattress in cooler months as well as warmer months allows you to decide if this mattress best suits your needs. Popular review site, www.memoryfoamtalk.com says that DreamCloud is set "apart from the many competitors in the online mattress space by offering an industry leading 365 night sleep trial."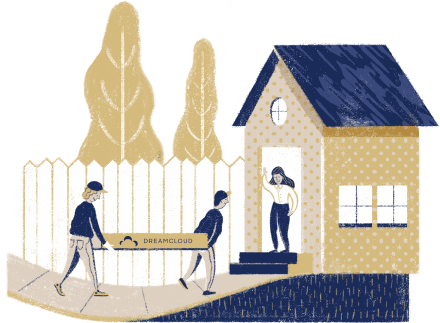 SLEEP CONCIERGE + WHITE GLOVE SERVICE
Along with DreamCloud's incredible comfiness comes perks to the purchase. At DreamCloud we understand the value of your time and energy, which is why we have a dedicated Sleep Concierge team at your service. If you have any questions about DreamCloud before, leading up to, or after your purchase, we've got your back. We want to ensure your absolute satisfaction, which is what the Sleep Concierge team is all about.
The DreamCloud mattress has an optional White Glove Service you can select at checkout. This option means that DreamCloud will be hand delivered to your door and set up for your in the room of your choosing. If you choose this option, our delivery team with also remove all of the packaging and, if you'd like, remove your old mattress for you. We want you to rest easy, so let us do the heavy lifting for you.
WARRANTY:
Both NECTAR and DreamCloud have warranties that trump industry standards by a long shot. NECTAR's Forever Warranty and DreamCloud's Everlong Warranty last as long as you do, meaning that they last as long as the original purchaser of the mattress owns the mattress. The difference here is the value you are getting for the warranty. Popular review site, www.getbestmattress.com, raves that "the Dream Cloud comes with a lifetime warranty and a 1-year sleep trial. This is truly remarkable as most other companies merely offer 3 months' worth of a sleep trial." Since DreamCloud is a premium quality luxury brand mattress, the value of a warranty that lasts a lifetime is much greater than warranties of other mattresses because of its high quality materials and premium grade foam. With an Everlong warranty, high quality foam, and additional perks (White Glove Service, like-new reconditioning), DreamCloud is an obvious choice.
PRICE / AFFORDABILITY
For a queen-sized DreamCloud mattress, the price is $1199 and for a queen-sized NECTAR mattress the price is $699. Though DreamCloud is more expensive than NECTAR, its luxury grade quality is well worth the price. Popular review site, www.getbestmattress.com, says that "the Dream Cloud Mattress is an excellent choice if you wish to have a premium hotel-like experience…It is fairly expensive, however, it is completely worth the money." If you are looking for quality materials and premium plush feel with additional perks included, DreamCloud is the perfect mattress for you.
FIRMNESS + SUPPORT:
Widely read review site, www.getbestmattress.com, says that the DreamCloud mattress "is a great option for couples who have different firmness preferences. If you prefer a softer foam while your significant other prefers a firmer one, then a medium level of firmness would suit you best. If you cannot decide whether you would like a softer or firmer model, then this mattress version is for you." DreamCloud is ideal for those looking for that "just right" level where firmness and softness meet. With a 9.5 out of 10 for firmness according to www.getbestmattress.com, it is clear that DreamCloud is a excellent at cradling your spine and supporting you as your drift off. The combination of dreamy foam and springy coils make DreamCloud very balanced when it comes to firmness and support. With a mattress that is only made of memory foam such as NECTAR, it may not have the desired firmness you are looking for. If you are in search of equal parts cozy cradling cushioning and bounce back firmness, look no further than the DreamCloud experience.

MEMORY FOAM COMFORT
Up until DreamCloud busted into the mattress market, it was nearly impossible to find another mattress as large and plush as DreamCloud's 15" profile. Unless you were shopping at expensive retailers or stores with sky high markups, you were hard pressed to find anything with the same thick, comforting layers as the DreamCloud. Part of what makes DreamCloud so special is its 8 unique layers, 5 of which were carefully chosen layers of memory foam. Www.getbestmattress.com gives DreamCloud a 9.7 out of 10 on the comfort scale whereas NECTAR comes in at a 9.6. They explain that "Dreamcloud is designed for the ultimate comfort experience" saying that "the medium luxury firm comfort level is perfect for providing the comfort you need. The most prominent problem with most memory foam mattresses is that they tend to trap heat inside them and thus result in the user feeling hot while they sleep." Since DreamCloud is "a memory foam [mattress] with gel infusion [it] has a special cooling gel that keeps it cool while you sleep. The soft plush euro top ensures that there is sufficient bounce so that you do not feel trapped inside the mattress. The super soft memory foam imparts a softer plush feel to the mattress." Many mattresses that are only composed of memory foam such as the NECTAR mattress tend to trap in heat and suck you in so you feel a bit sunken at night. The DreamCloud's layers are designed with lullabies in mind. Its gel layers, moisture wicking Cashmere blend top, and foam encased coils ensure that you'll remain cool as well as pleasantly cradled throughout the night.
SLEEPING HOT
As a hybrid mattress, DreamCloud utilizes a combination of memory foam and a system of five zoned foam encased micro coil compression system that is unmatched in the field. This system of coils is a large factor in DreamCloud's ability to regulate temperature throughout the night because it allows for maximum breathability and discourages heat retention. Well known review site, www.memoryfoamtalk.com, loves DreamCloud for those who tend to sleep hot saying that "the use of the gel foam layer, the latex layer, and the cashmere top cover combined with the hybrid coil construction all do a great job of ensuring the mattress sleeps cooler than most mattresses we have reviewed." Though www.memoryfoamtalk.com had nothing bad to say about NECTAR's ability to disperse heat and remain cool throughout the night, it only landed a 9.6 out of 10 on the sites scale for sleeping hot as opposed to DreamCloud's incredible 9.7 out of 10. With its additional coil system DreamCloud is unmatched in nighttime breathability and temperature neutrality.

MOTION TRANSFER
Motion transferability is something that is extremely important to consider when looking to buy a mattress, especially if you are sharing a bed a night. When sleeping with a partner it can be frustrating if you are woken up by their natural stirring throughout the night. This is why having a mattress that has low motion transfer can be vital to a quality night of sleep, and vital to the health of your relationship. Choosing DreamCloud means you are choosing plush comfort, premium materials, as well as low motion transfer so you're able to spend more time with your dreams and less time waking up throughout the night because of a restless partner. Both DreamCloud and NECTAR have pretty spectacular ratings in the motion transfer field from popular review site, www.memoryfoamtalk.com. DreamCloud comes in at a 9.7 out of 10 whereas NECTAR received a 9.6 out of 10. Though fairly even in rating, www.memoryfoamtalk.com thinks that DreamCloud takes the cake in this aspect.
EUROTOP + REINFORCED EDGES
DreamCloud's Eurotop and reinforced edges are just icing to the already delectable DreamCloud cake. Unlike traditional pillow top mattresses, a Eurotop mattress takes the luxurious high quality feel of DreamCloud a step further. The Eurotop is flush to the edges of the mattress and has additional padding sewn into the top layer, giving it some extra comforting cushion. Since Eurotops are flush to the edges of the mat, they not only look cleaner, they also have extra edge support. This is important if you tend to roll around when you sleep. Extra edge support ensures that you will be safe and unlikely to roll onto the floor in the middle of the night. Good news for those who toss and turn. With solely memory foam mattresses such as NECTAR, there can sometimes be compression issues when compared to traditional innerspring mattresses. With DreamCloud, you'll be sure to stay put and stay supported throughout the night.

WHAT REVIEW SITES ARE SAYING
Review sites love DreamCloud saying things like "the Dreamcloud is hands down one of the best values out there for a mattress. I haven't come across a mattress that is built better than the Dreamcloud at this price point. I recommend the Dreamcloud to people that want a traditional mattress feel will all the benefits of newer generation foams and latex along with the tried and true benefits of tufting that only a luxury mattress can offer" (www.sleepsherpa.com). www.memoryfoamtalk.com raves that "in our opinion, the DreamCloud hybrid mattress is the best hybrid mattress we have ever slept on and tested to date, and is our top pick for hybrid mattresses and one of our top overall picks as well in our Top 10 Best Mattresses Guide. If you want a luxury hybrid mattress that sleeps cool and is super supportive and comfortable at a price 3-4x less than competing in-store mattresses of the same quality, with a lifetime warranty and 365 night sleep guarantee – the DreamCloud simply cannot be beat." If you want a beautiful night of rest on a mattress that reviewers absolutely love, it's got to be DreamCloud, every time.
Book a 365 night stay on a DreamCloud.