Luxury Hybrid Mattress for Side Sleepers
DreamCloud's Combination of Memory Foam and Coil Technology Provide Ultimate Comfort and Support When Sleeping on Your Side
First developed by NASA for astronauts to sleep on in space, the memory foam technology in DreamCloud has been perfected to keep your body beautifully supported as you drift off to sleep. This is especially good news for those of you who are side sleepers. When you are on your side, DreamCloud meets and supports every single curve of your body, which keeps your spine in a straight, neutral position throughout the night. When you're spine is aligned, your muscles don't have to work as hard and your nerves aren't being pinched or pulled in odd ways because everything is aligned as it should be.
As a hybrid mattress, DreamCloud not only uses these premium foams, but it also uses a five-zoned, foam encased, micro coil compression system that keeps you cool and supports you as you slip into dreamworld. Designed to provide a luxury mattress experience, these coils are perfectly spaced to keep the air flowing. Sleeping hot is one of the most annoying and common experiences that happen with memory foam mattresses, but with our killer combination of gel-infused foam and breathable coils, your temperature will remain consistently neutral throughout the night.
The coils are also far more flexible than your average bed spring. They work in tandem with the memory foam to absorb motion transfer, contour, and move with your body. This means that if you're sleeping with a partner, you won't feel them rolling around during the night, or even when they get up to make you a cup of coffee. And as you sleep on your side, you'll notice you feel fully supported – never sinking – throughout the night.
8 Layers of Bliss for Full Body Support
DreamCloud's eight-layer system and luxury design uses the latest technology and premium quality materials to create the best contouring support for your body. Crafted to mold to your every curve and relieve every pressure point the soft, Cashmere blend, high density foams, and pocket-encased coils, are perfectly designed for those who enjoy sleeping on their side, because it allows your back to stay in its natural alignment.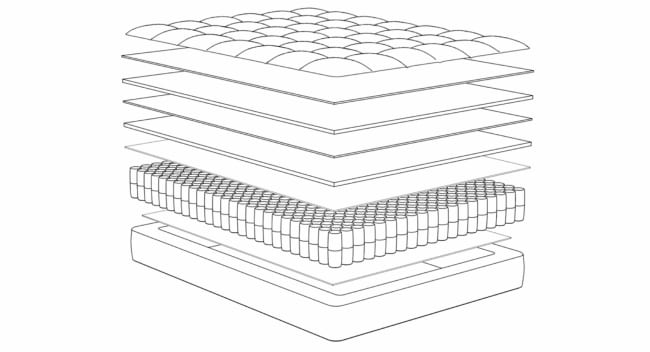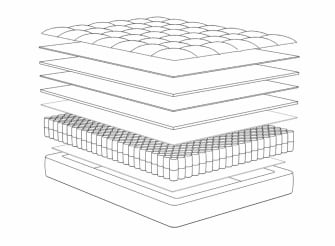 While DreamCloud is ideal for all types of sleepers, there are a few layers in the mattress that are particularly useful to the side sleeper. As breathable as it is soft, we spared no expense with our Cashmere blend Eurotop that side sleepers will love. The tufted top is what makes you feel like you're sleeping on an actual, fluffy cloud – perfectly dreamy support for hips and shoulders. Our supreme natural latex layer is what helps the DreamCloud hold up for a lifetime – while providing elasticity and durability to hold you up while you sleep without sinking. The additional three layers of memory foam keep your body sleeping cool and comfortable, while the "BestRest" Coils conform to how you move, add support, and are perfectly space to support optimal airflow as you move just in case you roll over in the night.
A Perfect Balance of Firmness and Comfort
We rate DreamCloud at a 6.5 out of 10 on the firmness scale with 1 being a fluffy pillow and 10 being cold, hard, concrete. A 6.5 is the ideal combination for side sleepers – the cozy comfort of the foam blends perfectly with the firmness and "bounce back" of the coils and base, making it feel "just right" for someone who sleeps on their side. The dense base layers and the soft top layers are designed to make you feel like you are floating.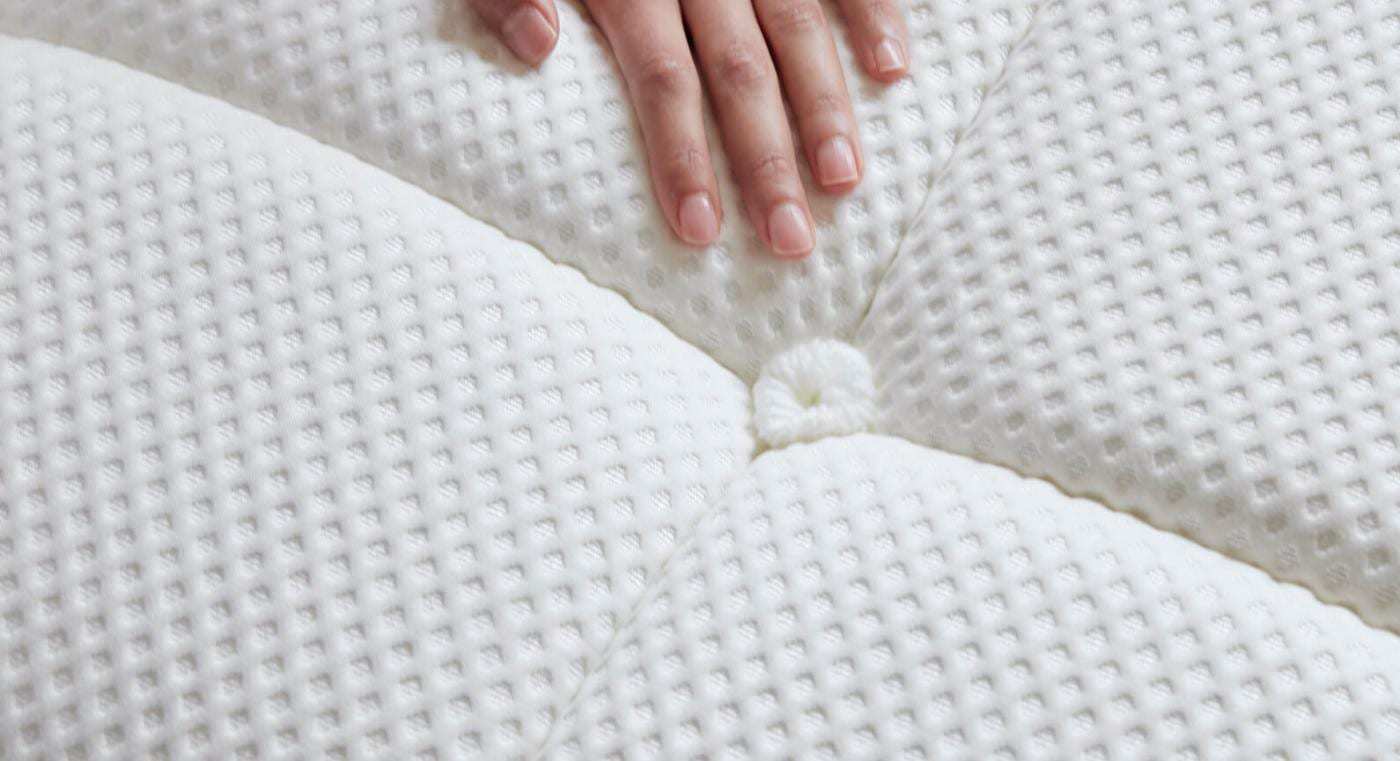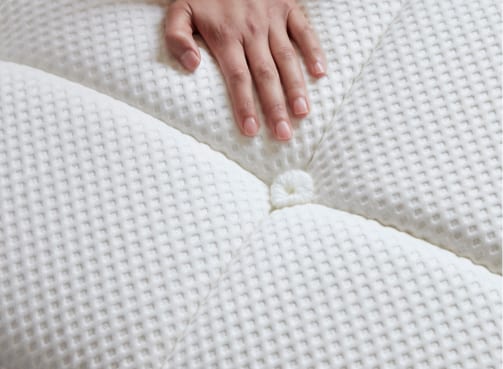 365 Night Trial and Everlong Warranty
Choosing DreamCloud means that you are choosing luxury hotel quality at an affordable price, and the best part is you can try it out for an entire year at no risk. We are so certain that you'll love the soft, cashmere blend material, supporting yet soft foams, and the breathable coils, that we offer a trial period that is 3 times longer than other trial periods in the industry. If you decide that DreamCloud is not what you're looking for, we'll come pick it up for you at no additional cost and refund 100% of your payments.
Say goodbye to counting sheep because when you sleep on a DreamCloud, there's no need. Made with the highest quality materials along with its hybrid blend of memory foam and pocketed spring coils, you'll wonder why it took you so long to start sleeping on DreamCloud. Each layer is dreamier than the last, making it the last mattress you'll ever need to buy.
What Our Customers Are Saying
A good night's sleep on DreamCloud offers more than just comfort.
Beats everything in stores hands down
Greg V.
"Nothing we saw in any stores compared to what we felt the moment we got our DreamCloud. Before we even slept on it, we could see that this was something unlike any other mattress. It looks extremely plush and cloud-like and it feels like sinking into a sea of clouds. DreamCloud is truly heaven."
Must have for anyone who thinks their back pain is insurmountable.
Del R.
"I've suffered from back problems for fifteen years. Finally after my chiropractor insisted that I get off my springy mattress that was poking at me, I decided to bring DreamCloud into my life. After a few weeks of truly comfortable sleep, I started noticing my back pain subsiding during the day. DreamCloud is a must-have for anyone who thinks their back pain is insurmountable."
Hard to remember a time before DreamCloud
William R.
"DreamCloud lulled me into a restful night sleep each night. DreamCloud gives my hips the perfect amount of comfort which as a side sleeper all my life I've struggled with. Not only is each night a dream, but feeling like I can wake up and go on a run again is truly the biggest dream of all."
Perfect night of sleep
Rita A.
"I thought my last mattress was comfy, but I was wrong. DreamCloud is unlike any other mattress. My boxspring was too bouncy, and a memory foam mattress for me was not enough support. DreamCloud combines the best most comfortable parts of a mattress into one perfect night's sleep."
Layers of Heaven
Frank H.
"Layers of heaven is how I would describe DreamCloud. Each layer of memory foam comes together to support my body every night. I have no pressure points or sore muscles when I get out of bed in the morning. The combination of springs and foam makes for a truly dreamy mattress."
Feeling 10 years younger
Bill E.
"I never thought too much about the mattress I slept on until I got DreamCloud. It's crazy how big a difference it's made. The Memory foam holds you like a gentle hand, supportive but soft. These days I'm waking up rejuvenated and full of energy -- like I'm ten years younger. I actually look forward to sleep now. Thanks to the foam layers, it feels like I'm sleeping on cloud nine, which I am, because the DreamCloud has changed my life. Thank you."
best night's sleep, period
Rick S.
"Back pain, hip pain, shoulder pain. You name it and I had it before taking a flight to destination DreamCloud. Each night seems to cradle my body even more than before. If I slept this good as a child, I don't remember it. DreamCloud gives me the best night's sleep, period."
buy a dreamcloud - you won't regret it
Victor D.
"I never thought I would be one of those people telling other people what to buy. It's none of my business what people spend their money on. That's how I was before DreamCloud anyways, now I'm telling everyone about it. If everyone could experience DreamCloud for just one night, they will understand that this is really not a mattress, it's really a cloud. I never realized the importance of sleep until I started sleeping restfully and I never realized the importance of a mattress until now."
Feel like a celebrity with DreamCloud
Jason D.
"Who ever thought that someone who had modest means like me could sleep on such a luxurious mattress. This is the most comfortable mattress I've ever slept on, and I didn't have to spend a fortune on it. Every night I get into bed, I feel like I could be a celebrity or a Prince or in a five star hotel resort."