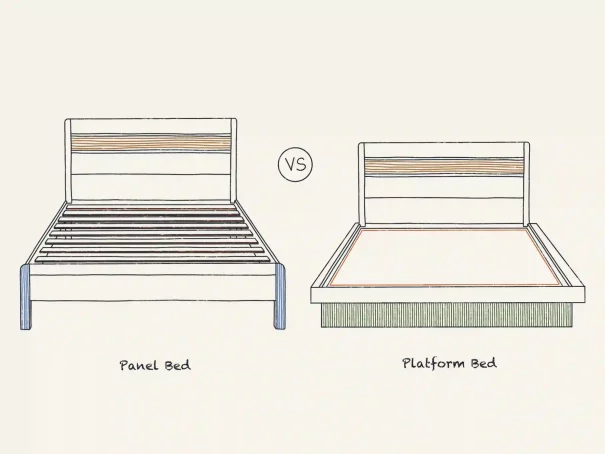 Panel Beds vs. Platform Beds :Everything you Need to Know
Written by Mehran Uzair
Last Updated on Jul 21, 2023
The bed foundation is what shapes the comfort and feel. Because it takes more than a mattress and the bed size to provide a relaxing and comfortable night, and though both panel and platform beds have some similarities and differences, the decision goes beyond headboards and bed posts.
With that being said, is a panel bed the same as a platform bed? Although panel beds and platform beds share similar designs, ranging from tufted, upholstered, and storage drawers underneath, they also possess many fundamental differences.
Panel Bed vs Platform Bed: The Difference
Panel bed vs platform bed: the potential differences.
| Parameters | Panel Bed | Platform Bed |
| --- | --- | --- |
| Style | Traditional aesthetics, Sturdy design, Vintage decor, Extra height, Extra decoration | Contemporary design, Low profile, Modern minimalistic deco |
| Comfort | Panels provide breathability | Strong base providing great mattress support |
| Storage | Ample storage due to high profile framework | Limited space, Mostly comes with storage spaces |
| Room Size | Large rooms due to headboard and footboard presence | Small space can accommodate |
| Mattress Type | Box spring, Innerspring mattress | Memory Foam, Hybrid |
| Price | Around $200 to $1000 | $100 to above $5000 |
What Is a Panel Bed
A panel bed consists of wooden panels or metal bars that help support the box spring and the mattress, hence the term panel. These panels help extend the lifespan of the mattress and the box spring.
Usually, the panel beds feature a side railing, an eye-catching large headboard, and a footboard. Most of the time, the panel beds consist of elaborated and traditional designs, which complement conventional or vintage home decor.
Panel Bed Construction
A simple explanation of the general panel bed's construction:
The side rails of the panel bed are the frame of the bed. 

The wooden slats or metal bars are attached to the frame with huge gaping. These gapping allows the mattress and the box spring to breathe.

The panel bed's headboards display an elaborated design or sometimes are upholstered or tufted.
Panel Bed Pros and Cons
Knowledge of the pros and cons of the panel may contribute to the decision-making.
Pros
Comes in various designs and styles, providing a range of options to choose from.

The added height of the box spring makes it easier to get in and out of bed.

The box spring increases the mattress's lifespan.

Provides ample support to the sleeper with the bed frame, box spring, and mattress.
Cons
Requires box spring which adds to the expenditure.

Besides the extra cost, the box springs are needed to be flipped, rotated, and later replaced when their springs start losing their bounce.

Generally comes in traditional style and the same variations, which may not suit the modern decor.
What Is a Platform Bed
A platform bed is a strong-based framework with wood or metal slats or a solid panel. They sometimes come with a headboard or a footboard; besides that, the platform bed frame has a built-in base which requires no box spring.
In addition, the platform beds have a simple and sleek design and are lower height-wise, which gives an impression of more free space in a small room. Therefore perfect for minimalists and tiny apartments.
Platform Bed Pros and Cons
Following are a few pros and cons of the platform beds.
Pros
Lessen the cost of box spring

Most designs provide and come with storage spaces underneath, such as drawers.

Have a variety of contemporary designs.

The low profile of the frame provides stability.

Proffer optimal airflow to the mattress.
Cons
The solid structure of the bed makes it hard to move around.

The low height of the bed makes it hard to get in and out of bed.

Wooden platform beds are not sturdy enough to withstand heavier individuals and can fracture over time.
Panel Beds vs. Platform Beds: Which Requires a Box Spring
Platform vs panel bed vs box spring: the question of stability and comfort. 
As aforementioned, Panel beds need the box spring for stability, durability, and support of the mattress. It's a plus point that the box spring also adds to the height. On the other hand, a platform bed does not require any foundation or box spring.
Panel Beds vs. Platform Beds: Which Is a Better Choice
Panel bed vs platform bed: the judgment relies on the top four factors, price, comfort, occupancy, and design. 
The panel beds are a little costlier than platform beds; however, they provide sufficient support and comfort. And though they are said to have a traditional appearance, Some panel beds are simple and elegant. Furthermore, their aesthetic is best displayed in large spaces and with conventional decor.
Platform beds, on the contrary, seem like a better choice since the sleek minimalist designs are a good fit for small rooms. They curb the cost of foundation or box spring, provide ample support, and though they are said to be contemporary, Some platform beds carry nifty features like visible drawers. 
However, the only downside of a platform bed is its height. It can be efficiently dealt with by using a bed raiser, which costs less than a box spring.
Final Thoughts
Panel bed vs platform bed: have specific key differences. However, they both are a perfect fit in their shoes, where one costs less, and the other is easier to get in and out. Nevertheless, the choice solely depends on the sleeper's preference, whether they want a lower bed or a better aesthetic.
Disclaimer: This website does not offer medical advice nor professional medical services; rather, it is provided solely for educational, informational, and/or entertainment purposes. Individuals seeking medical advice should consult a licensed physician. The information provided should not be used for diagnosis or treatment of any condition, disease, or injury. When you have a medical condition, you should always talk to licensed doctor or other certified medical professional. You should never delay seeking professional medical advice or treatment based on the contents of this website. Call 911 or immediately go to the nearest emergency room if you think you may have a medical emergency. The contents of this website are provided "as-is", Dreamcloud Sleep and its parent, subsidiaries, affiliates, employees, contributors disclaim any warranty of the information contained herein. Please contact support@dreamcloud.com to report any errors, omissions, misinformation, or abuse.
Shop Our Most Popular Bedroom Must-Haves