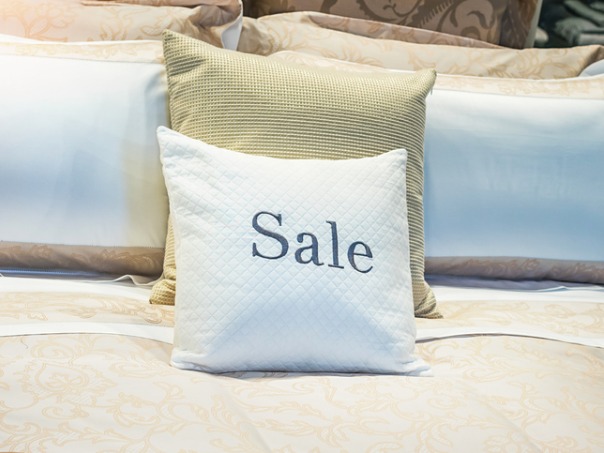 10 Best Times Of Year To Save Money On A Mattress (Plus Insider Tips To Save More)
Written by Dreamcloud Editorial Team
Last Updated on Apr 19, 2022
Buying a bed is like investing in real estate: You want a good deal and maximum return on your investment in the form of good sleep (which is priceless). But finding the best value for your dollar can be incredibly confusing: How do you know when a sale is really a sale? Should you wait for another deal to come along, or strike immediately?
Let us lead the way. These are the best times of year to buy a new mattress and save more money than you would believe.
1. Black Friday and Cyber Monday
The epitome of all shopping holidays, Black Friday and Cyber Monday are perhaps the best times of year to find the lowest prices on everything, including a mattress (a gift you usually buy for yourself). And why not? You just stayed up all night putting together a delicious ten-course meal. You deserve a good night's sleep on a new comfortable Dreamcloud bed.
2. New Year's
If you're starting January with the goal to create healthy habits (we're right there with you), sleeping on a new mattress should be part of your plan.
This is a prime time for brands to roll out deals that cater to New Year's resolution-seekers and exhausted holiday hosts.
Insider tip! In January, you'll also find Whites Sales, where retailers offer deals on bedding and linens. Because you should have beautiful new sheets to go with your beautiful new mattress.
3. Martin Luther King, Jr. Day
Martin Luther King, Jr. Day, which falls on the third Monday in January, is another key weekend for mattress shopping, perfect for New Year's resolution stragglers.
It's another chance to get started on your healthy lifestyle goals or recommit if you've already fallen off track. Plus, if you've paid off your holiday bills, this is an opportunity to make a smart investment in your sleep and well-being.
4. Presidents Day
On the third Monday in February, the U.S. honors Presidents Washington and Lincoln. Many of us get a long weekend, which is excellent for mattress retailers: That extra day off work gives people more time to shop.
Bonus: These bargains arrive right on time to get a head start on the spring bedroom makeover you've been dreaming about all winter.
5. Memorial Day
It's much easier to enjoy the long, lazy days of summer when you have a super-comfortable new mattress. And with Memorial Day being the unofficial start of our warmest season, you're probably feeling inspired to get a good bargain, as you make summer plans.
Insider tip! Expect to find excellent deals all summer long, as many retailers offer discounts to clear their inventory for fall.
6. 4th of July
Around this time, you usually see a surge of movers looking to settle into new homes before the school year begins. What's that have to do with mattresses? Moving is one of the best times to buy a new mattress (why would you bring a lumpy, old bed to your new home?).
Even if you're not in the real estate market, it's still a good time to make upgrades to your home before you fall back into your regular routine after summer.
Insider tip! Look out for Back-To-School mattress sales around the end of July through the end of August.
7. Labor Day
In many circles, Labor Day is known as the "second New Year," when you're ready to shake off the relaxed pace of the summer and refocus on being productive and living healthier.
Mattress brands usually offer markdowns during this holiday to capitalize on that refreshed consumer mindset.
8. Columbus Day
Because Columbus Day falls during the second week of October, just before Halloween, it may fly under the radar for many consumers (but not you, because now you know!). That almost-secret nature can make it an ideal time to find unexpected bargains on mattresses.
9. Veteran's Day
You might expect Veteran's Day deals to apply to active or retired military and their families only, but many mattress sellers extend the savings to all customers. And with Thanksgiving right around the corner, you'll be grateful for investing in better sleep before holiday stress hits.
10. Daylight Saving & Surprise Sales
Daylight Saving is becoming an increasingly popular time for mattress brands to hold flash sales for obvious reasons: Sleep takes center stage whenever there's a time change, so be on the lookout. Also, at various times of the year, a company may celebrate its anniversary or birthday with a discount. You may even see a "customer appreciation" sale out of nowhere. You can't predict when they'll happen, but you need to be in the know. The easiest way to find out about these surprise sales is via email or social media. Make sure you're on their email list, and follow them on Facebook, Instagram, and Twitter.
3 Mattress-Shopping Tips To Save Time & Money
The best way to recognize a really good deal is to do a little homework in advance. Here's what you should know before you shop.
1. Holidays mean savings
As our list shows, just about every holiday on the calendar is a good time to seek out bargains.
2. Compare brands
Once you know the kind of mattress you want (such as memory foam or hybrid), compare the prices of top brands, and look at other features, like sleep trial and warranty. Start with our hybrid mattress comparison page.
3. Check about financing
Did you know that you can finance your mattress purchase into a low monthly payment? Through Affirm, Dreamcloud offers a financing plan that can give you a rate as low as 0%, and you can apply online easily.
–Jen Dennis
Shop Our Most Popular Bedroom Must-Haves