Dreamcloud vs. Tuft & Needle Mattress Reviews
Popular online review sites are raving about DreamCloud. DreamCloud's Lifetime Warranty, year-long trial period, and excellent customer service makes it stand out amongst the mattress market. Leading review site, sleepsherpa.com, says that "the DreamCloud is hands down one of the best values out there for a mattress. I haven't come across a mattress that is built better than the DreamCloud at this price point. I recommend the DreamCloud to people that want a traditional mattress feel will all the benefits of newer generation foams and latex along with the tried and true benefits of tufting that only a luxury mattress can offer."
Disclosure: We pay a commission to the review sites listed below when visitors click on a DreamCloud affiliate link on their sites and make a purchase.

CONSTRUCTION/MATERIALS
DreamCloud is a luxury hybrid mattress that combines latex, memory foam, coil, and tufting technologies all aimed at making you feel as though you are drifting off to sleep on a big, fluffy cloud. Our ultra premium foam was created to cradle your back and spine and aims to achieve the ultimate balance between comfort and support. DreamCloud was created in order to allow sleepers to sleep in any position they find comfortable. For side sleepers, back sleepers, stomach sleepers, and sleepers that like to mix it up, DreamCloud is the mattress you have been looking for.
Tuft & Needle Mint is not a luxury hybrid mattress. It is labeled as a performance polyfoam mattress that uses Tuft and Needle's main claim to fame: their T&N Adaptive® Foam. This is their own creation that is neither memory foam nor latex. However, Tuft & Needle has only 3 layers to its Mint model, where DreamCloud boasts 8 layers of sumptuous, carefully constructed, world class material made into a mattress.
Layers
DreamCloud is 15 inches of plush. Our patent-pending "BestRest" coils combined with our 5 layers of beautifully comfortable memory foam are second to none. DreamCloud was created to give you a restful, dreamy night of sleep, which is why we have meticulously crafted this mattress to give you an experience that will make you excited to jump into bed every night. Tuft & Needle Mint does not have 5 layers of memory foam or "BestRest" coils, it only has 3 layers of it's Adaptive® foam. With DreamCloud's hybrid construction,, you are resting on the corner of comfort and support, ensuring pressure relief from trouble areas. Below is a breakdown of each sumptuous layer of a DreamCloud mattress: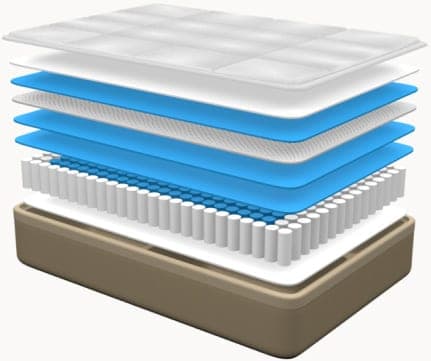 True Tufted Cashmere blend Eurotop Cover: This luscious cashmere blend cover is soft, breathable, provides premium comfort, and wicks away moisture to keep you cool. It also makes the mattress look like an actual fluffy cloud.
Gel-Infused Memory Foam: This layer contours to your body in order to relieve points of pressure and cradle your spine. The gel also allows you to stay at a comfortable temperature throughout the night.
Super Soft Quilted Memory Foam: This layer is unique to DreamCloud and was crafted with your ultimate comfort in mind. DreamCloud's quilted foam makes it feel like you are sleeping on a big, fluffy, cloud.
Supreme Natural Latex: Super premium natural latex layer proven to be both elastic and durable. Much more resilient than synthetic latex while providing excellent support and extra contouring.
"Dream Plush" Supporting Memory Foam: Our high density memory foam layer for deep support for your body.
Super Dense Super Soft Memory Foam: Feel comfortable sleeping in any position with our super dense, super soft memory foam.
Patent-Pending "BestRest" Coils: Our specially designed, 5-zoned foam encased pocketed coil compression system offers excellent support from head to toe.
High Density Super Soft Memory Foam: The definition of dreamy, this high density bottom layer of the DreamCloud mattress keeps your back in alignment and luxuriously supported.
PRICE / AFFORDABILITY
The price for a queen-sized DreamCloud mattress comes in at about $1199 whereas a queen-sized Tuft & Needle Mint mattress costs $995. Though DreamCloud costs a bit more, it's important to keep in mind the additional benefits that come along with a premium quality hybrid luxury mattress such as DreamCloud. DreamCloud is made of a top quality TrueTufted™ cashmere blend top, super soft quilted memory foam, gel infused memory foam, "BestRest" coils, and various other layers of dreamy comfort. DreamCloud spared no expense when it came to the quality of materials and also spared no expense when it comes to customer ease and satisfaction. Along with otherwordly comforting quality, DreamCloud also offers both a trial period and warranty that are virtually unheard of in the mattress industry. Customers can try DreamCloud for a risk-free 365 days, where Tuft & Needle Mint only offers the typical 100 night trial. With DreamCloud's Lifetime Warranty, we guarantee the construction, materials, and durability of DreamCloud for the original purchaser for, well, ever. We want DreamCloud to be the last mattress you'll ever need to buy and, if you treat it right, there's no reason why you'll need to.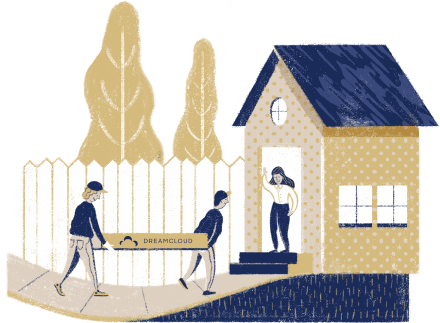 SLEEP CONCIERGE + WHITE GLOVE SERVICE
With DreamCloud's Sleep Concierge and White Glove Service you can leave the heavy lifting to us. Our world class customer service team is dedicated to your highest satisfaction. Tuft & Needle does not have a White Glove Service or a Sleep Concierge. Though DreamCloud may cost more, the incredible support, unbeatable construction, and unheard of warranty/trial period it offers makes it worth the extra cost. You are getting what you pay for plus more. With our optional White Glove Service, we not only hand deliver your DreamCloud mattress, but we also will remove all of the packaging as well as your old mattress if need be. We want you to rest as easy as possible, and this includes removing the headache of the whole tear down/set up process that comes along with purchasing a new mattress. On top of the White Glove Service, DreamCloud also offers our Sleep Concierge, which is a team of dedicated support staff who are here to help you every step of the way. The Sleep Concierge team will help you with questions you may have like, "which mattress is perfect for me?" or "do you ship mattresses to Alaska and Hawaii?" At every step of the process when it comes to purchasing a new mattress, DreamCloud has your back.
TRIAL PERIOD:
Most mattress companies on the market will only offer you a 100 day trial period to test out their mattress. 100 days is only about 3 months or one season, and this is how long you're able to test out the Tuft & Needle Mint mattress. At DreamCloud, we offer a 365 day trial period, meaning that you can test out your mattress in every single season to see how well you sleep under all different kinds of weather and circumstances.
At DreamCloud we are so confident that you'll want to hang onto our cloud-like mattress, that we offer free returns and shipping in the contiguous  U.S. You can have DreamCloud shipped straight to your house for no additional cost, have us help you set it up and remove your old mattress, and if in a year from now you decide it's not for you, you can send it right back. We'll even come pick it up. It's that simple.
WARRANTY:
There is truly no place like DreamCloud, which is why we offer a Lifetime warranty. This means that as long as you live and are the original purchaser of the mattress, your dreamy DreamCloud is covered by our warranty. We back up the quality of our mattress absolutely, no confusing or wishy washy legal speak. With DreamCloud, you're making a comforting investment of a lifetime.
The Tuft & Needle Mint mattress offers a standard 10 year warranty for its mattress, meaning that after 10 years you are on your own. Realmattressreview.com loves our extra features, saying, the "lifetime warranty & 365 night trial gives you some peace of mind and is pretty much unheard of in the industry. This is a massive perk."
FIRMNESS + SUPPORT:
Our system of super soft, quilted memory foams and forgiving foam-encased coils are perfectly balanced to give you a blissful nights sleep, no matter what position you prefer. On a scale of 1-10 with 1 being too soft and 10 being too firm, DreamCloud's luxury firmness is perfectly balanced at a 6.5, "just right" rating. Popular review site, sleepsherpa.com, explains that "if you want a mattress with foam layers that recovers quickly, is breathable and contours well, [DreamCloud] would be the ideal mattress for you."
Because Tuft & Needle is a mattress made only of foam, it does not have the same balance of support as DreamCloud because it does not have the springy foam-encased coils. Sleepsherpa.com says that "if you want a soft mattress that you can really sink into quickly, [Tuft & Needle Mint] is a great mattress." On the other hand if you want something with a bit more firmness and support, DreamCloud is the right choice.

MEMORY FOAM COMFORT
Did you know that memory foam was first developed by NASA in order to keep astronauts supported while they slept in outer space? At DreamCloud we leverage leading memory foam technology to give you out-of-this-world comfort and cradling support. Tuft & Needle Mint uses their Adaptive® Foam, but a Mint mattress has only 3 layers of foam, where DreamCloud has 5 dreamy layers.
You may spend a bit more initially, but you are getting numerous additional benefits. We use the highest quality materials for our hand-tufted Cashmere blend cover, patented coils, and perfect dreamy foam layers, meaning your aching back and joints will thank you. Popular review site, memoryfoamtalk.com, can't praise DreamCloud enough saying that "the top memory foam and latex comfort layers provide excellent body hug and contour with the underlying spring support layer providing the deep compression support for the body, and the cashmere hand tufted top layer is unbelievably comfortable." For coziness and ultimate comfort, choose DreamCloud.
SLEEPING HOT
Does DreamCloud sleep hot you ask? Quite simply, no. Our 5 layers of memory foam will hug you to sleep, wrapping you in luxurious comfort, while also keeping your temperature neutral. Many hybrid mattresses do not have the same cooling technology as DreamCloud and they retain heat. DreamCloud is different due in part to our moisture-wicking cashmere blend top, which beats out cotton blends in keeping you cool. Well-known review site, getbestmattress.com, talks about how "the most annoying and uncomfortable problem with the memory foam is that it tends to heat up a lot." This won't happen with DreamCloud because "a memory foam with infused gel effectively eradicates the problem by cooling down the bed and allowing heat to flow through the mattress instead of becoming trapped in the foam. The other layers such as the micro could also allow air to flow through the foam to properly regulate the body temperature. One of the most rewarding qualities of the Dream Cloud is perhaps the superior breathability" (getbestmattress.com).

MOTION TRANSFER
Getbestmattress.com talks about how "one of the most important features to look out for when shopping for a sleeping option is its ability to prevent motion transfer." This is why motion transfer was one of the greatest considerations we took in creating the DreamCloud mattress. Many people are not just solo sleepers, they sleep with partners and spouses as well. Sensitive sleepers know how difficult it can be while co-sleeping, so it is important to find a mattress that has very little motion transferability. Getbestmattress.com raves that "the DreamCloud's various support layers prevent a motion from transferring. This helps you sleep comfortably through the night. The support layers are soft enough to provide a sufficient bounce while preventing a motion from transferring at the same time. This is a result of multiple technologies incorporated in the mattress."
EUROTOP + REINFORCED EDGES
Tuft & Needle Mint has improved edge support from a firmer base layer and along the bottom side rails, but doesn't have the same eurotop as DreamCloud. The only affordable luxury mattress on the market, DreamCloud has invested in the best materials and construction for your ultimate comfort. The hand-tufted euro top looks and feels like a cushioning, contouring pillow that cradles your body. Review site, sleepsherpa.com, loves that Dream Cloud "is a hand-tufted mattress with springs and foam making it a luxury hybrid mattress that breaks the mold. A few highlights of this mattress aside from the tufting are stitched handles along the side, cashmere blend and flax yarns and a price of $1199 for a queen size. Normally to get all these features in a mattress you can expect to pay north of $5,000." DreamCloud also has an additional side wall that provides unmatched support from edge to edge. It is features such as these that make us confident giving you our Lifetime warranty because we are confident that you won't ever want to part with this mattress.

WHAT REVIEW SITES ARE SAYING
Leading review site, sleepsherpa.com, gave DreamCloud an overall rating of 9.3 out of 10, with each individual rating (motion transfer, affordability, softness, off gassing, trial period) not dipping below an 8.8. Sleepsherpa.com also says that "this mattress feels plush and supportive. This is hard to achieve but I think Dreamcloud pulled it off by quilting foam into the top layer and then adding a layer of latex and springs underneath. This allows you to sink somewhat into the mattress before being lifted up again by the latex and spring system." Getbestmattress.com gives DreamCloud an overall score of 9.4 out of 10 with individual scores (comfort, support, design, material, warranty/trial, price/value) not going under a 9.3. In their "Final Verdict" section, getbestmattress.com says that "the Dream Cloud Mattress is an excellent choice if you wish to have a premium hotel-like experience. If sports efficient mechanisms to provide the best kind of experience while sleeping."
The Verdict
DreamCloud is dominating the industry with its positive reviews from popular online review sites. If you want a luxury hotel experience at a fraction of the cost of similar brands on the market, choose DreamCloud. Memoryfoamtalk.com sums it up best when they say, "if you want a luxury hybrid mattress that sleeps cool and is super supportive and comfortable at a price 3-4x less than competing in-store mattresses of the same quality, with a lifetime warranty and 365 night sleep guarantee – the DreamCloud simply cannot be beat."
Book a 365 night stay on a DreamCloud.