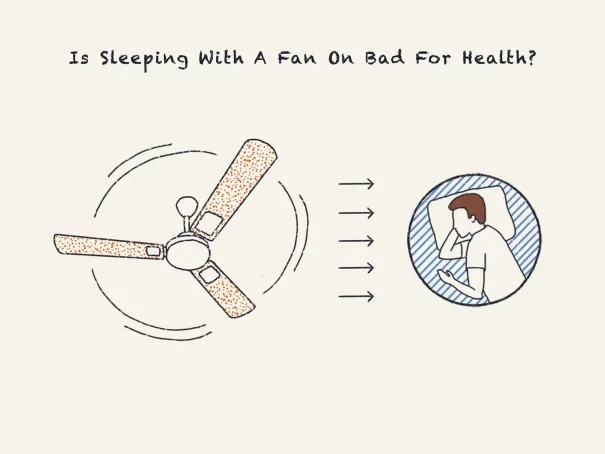 Is Sleeping With A Fan Bad For Health?
Written by Mehran Uzair
Last Updated on Jul 21, 2023
Sleeping with the fan on is the norm! We all do it, especially during hot and humid summers. And it should be good for you, right? After all, it is recommended to sleep in a calm and cool environment. That said, it may not be all hunky dory to sleep with your fan on. So, Is sleeping with a fan on bad for health? Well, we bring you all the answers right ahead. Without further ado, let's hop onto it. 
Is it OK to sleep with the fan on?
For most people, sleeping with the fan on is normal. It not only keeps the temperature of your bedroom cool but the white noise it emits can make you feel comfortable. But it is not the same for everyone. Some people may experience adverse effects from the continuous airflow and it can also cause allergy flare-ups. 
Downsides of Sleeping With a Fan On
Usually, the fan is not to blame, but the air quality and the fan's cleanliness cause the downside. That said, some of the side effects of sleeping with a fan include;
Worsening your allergies or asthma 
Switching on the fan all night long can spread dust, pollen, and other allergens in the room. The circulating air can trigger your allergies or asthma. If you usually wake up with itchy eyes and a runny nose, allergies can be the issue. 
Possibly spread germs, such as viruses
If you usually keep the room windows shut, switching on the fan recirculates the stale air and can even spread germs. That's why it is essential to let fresh air in every day.
Causes Congestion
Sometimes, a fan can dry your nose, mouth, and throat. And this can lead to excess mucus production and conditions, such as stuffy nose, nosebleeds, sinus headache, sore throat, and coughing. 
Dries Eyes and Skin
A fan tends to dry things out. So, if you suffer from psoriasis or dry eyes, the circulating air can worsen the condition and dry your eyes and skin.
May Aggravate Muscle Aches
When there is continuous airflow, it can lead to cramps and muscle soreness. Especially, if the fan points directly at you, it can even lead to muscle aches. So, if you have ever woken up with leg pain and noticed your fan has been running a full speed, it may be the culprit. 
Noisy Fan Blades
If you have noisy fan blades, it may make it difficult for you to fall asleep. Too much noise is not ideal for a good night's rest. 
How to Reduce the Negative Effects of Sleeping With the Fan On
Now that you know all the downsides of sleeping with your fan on, let's understand how to sleep with a fan without getting sick and reduce its negative effects.
Consider buying a Rotating Fan
If you love your fan and it makes you sick, you can opt for a rotating fan. It moves from one direction to another so it doesn't blow air on you directly. 
Set a Timer
If your fan comes with a timer, you can always set it to 1-2 hours so it will keep your room cool and shut down in a few hours to prevent any side effects. 
Keep the fan at a safe distance.
Don't sleep exactly underneath the fan or next to your oscillating fan. It can lead to dryness. Instead, keep it at a decent distance for absolute comfort. 
Utilize Air Filters
Use air purifiers and use high-quality air filters to ensure a clean environment. You can opt for HEPA filters to combat the speed of dust mites and pet dander. 
Use a Water Bowl in Front of the Fan
Don't get confused. But keeping ice water in front of the fan cools the room faster. Therefore, you will not have to worry about keeping the fan on overnight. 
Benefits of Sleeping With a Fan On
Are there any benefits to sleeping with a fan on? Should you do it? Take a look! 
Cuts Your Electricity Bill
Comparing the costs of a fan and an air conditioner, a fan is cheaper and can help you save on electricity. They are also energy-efficient. 
Maintains Comfort
A fan produces white noise and emits a comfortable hum to help you sleep comfortably. In fact, according to a study involving babies, it was seen that white noise helped 80% of the participants fall asleep in less than 5 minutes. 
Promotes Air Circulation
Your fan can act as an air freshener. It can circulate the air and refresh your bedroom The fresh air can keep you comfortable and also reduce stuffiness. 
SIDS prevention
Research shows that having the fan on at night reduced the risk of SIDS by about 72%. However, you can speak with your doctor for more information. 
Other ways to stay cool at night
If you don't want to use a fan or an air conditioner, you can use the methods below. 
Always clean your air filters every 1-2 months. 

Use breathable sheets and linens. 

If you are looking for a new mattress, opting for one with cooling technology is best. 

Opt for loose breathable clothes that can keep you comfortable throughout the night. 

Keep your blinds shut to avoid the sun entering your room. This can keep the room cooler for longer. 

A

warm

bath can help you out. It lowers your body temperature. It is best to bathe about 90 minutes before hitting the sheets. 

Promote ventilation. 

Place a cold cloth on your head or face, so you don't feel too hot. 
Conclusion
Sleeping with a fan comes with its own set of benefits and drawbacks. The circulating air can aggravate your condition if you are prone to allergies. That said, a fan also produces white noise, making it easier for some people to fall asleep. However, a fan is not recommended for infants below the age of one.
Disclaimer: This website does not offer medical advice nor professional medical services; rather, it is provided solely for educational, informational, and/or entertainment purposes. Individuals seeking medical advice should consult a licensed physician. The information provided should not be used for diagnosis or treatment of any condition, disease, or injury. When you have a medical condition, you should always talk to licensed doctor or other certified medical professional. You should never delay seeking professional medical advice or treatment based on the contents of this website. Call 911 or immediately go to the nearest emergency room if you think you may have a medical emergency. The contents of this website are provided "as-is", Dreamcloud Sleep and its parent, subsidiaries, affiliates, employees, contributors disclaim any warranty of the information contained herein. Please contact support@dreamcloud.com to report any errors, omissions, misinformation, or abuse.
Shop Our Most Popular Bedroom Must-Haves