Celebrity Bedrooms – Behind The Scenes Celebrity Decorating Tips 2019
Celebrity Bedrooms – From shabby chic to pure luxury the top celebrity trends of 2019 are rooted in authentic personalization of the most personal room in your home.
When decorating your bedroom, there are many things you need to factor in. This could include budget, available space, climate, storage space needed, and — believe it or not — feng shui (Some people will not dare make a decorating decision without getting the advice and approval of a feng shui expert!). Celebrity bedrooms are a great treasure trove of inspiration when it comes to designing your own bedroom. And why wouldn't it be? They are probably working with an unlimited budget and they have access to the best interior designers there are. If you're thinking of redecorating, what better place to look for inspiration than in celebrity homes? Perhaps you want a modern Manhattan apartment feel or a So-Cal beach vibe. You won't run out of design pegs or ideas looking at celebrity homes and bedrooms.
Ellen Degeneres and Portia DeRossi's California beach house is one envy-worthy home worth copying. So are the cool and modern New York apartments of the likes of Taylor Swift and Miranda Kerr. One helpful way to narrow down your source of inspiration is to think of a celebrity whose style you admire or whose style closely resembles yours — if only you had the same net worth! Most likely, you will share similar tastes and predilections when it comes to interior design as well.
Their furniture is all probably top of the line and perhaps way too much for you, but you don't have to exactly recreate their rooms, you need only to take inspiration from it. There are always cheaper or more affordable alternatives available if you know where to look! If you are crafty and creative, you can even make the stuff that you need or refurbish old furniture.
You can go thrift shopping, visit estate sales, or trawl eBay for more affordable alternatives. If you are ready to start decorating, keep reading for celebrity-approved tips and tricks. You will soon have a bedroom worthy of the stars!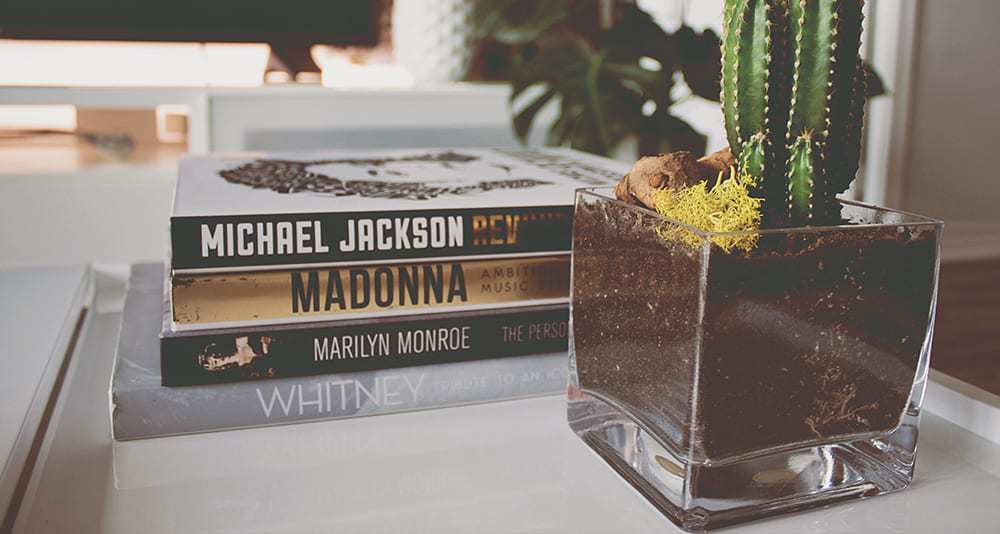 Tips and Tricks to Decorate Your Bedroom Like a Celebrity
Pick a theme and stick to it
No matter what your style is, if you want a room that looks like it was professionally-designed, you have to pick a theme and stick to it. That isn't to say you can't be eclectic. Not at all! Our favorite celebrity bedrooms are those that don't look too put together but have unexpected touches of eclecticism. But there is always a method to the madness. It might look like furniture was randomly chosen and the beautiful mishmash is a happy accident. But that is far from the truth. Make sure each piece of furniture or art you add to your bedroom was well thought out and carefully considered.
Here is one tip that will apply, no matter what theme or design you are going for. If you have a balcony or a beautiful bay window in your bedroom, do not cover it up. This source of outside light will offer beautiful and dramatic lighting at different times of the day. Natural light is the best for photos, of which you will probably be taking a lot.
Pillows, pillows, and more pillows
Pillows are an excellent and inexpensive way to accessorize and add personality to a room. You can have an oversized pillow in a rug on a floor, or multiple throw pillows on your bed or on a daybed. This is also a great way to add a pop of color or pattern in your bedroom if you don't think you can commit to a drastic paint job.
Don't choose harsh white light when it comes to choosing bulbs for light fixtures. Always go for a warm white light for your main light, and more dramatic yellow lights for pin lights, lamps, and mood lighting. As a bonus, a string of fairy lights over your bed or framing your window will give your room a magical and whimsical touch.
Have a piece of art on display
Most celebrity bedrooms feature some expensive piece of art hanging on the wall. The art you choose for your room need not be expensive. Choose something that speaks to you, something that is meaningful, or just something that you think is pretty. Maybe even something you created yourself. What could be more special than that? You can also go for a friend or a family member's original work. It doesn't have to be an original either. It can be print of your favorite piece of art. It's the next best thing to having the original.
When decorating, it's helpful to choose a visual focal point for the room from which all other design elements will be anchored. For a bedroom, this is typically the bed. A beautiful canopy, a statement-making headboard, or gorgeous bedding should do the trick. But don't be limited by having the bed as the visual focal point. It could easily be anything else, like a well-stocked bookshelf, an impressive-looking vanity, or a piece of art, a dramatic chandelier, or an armoire painted in a vibrant hue. It's really all up to you.
This hack is especially relevant if your bedroom is on the small side and you want to create the illusion of a bigger space. Install wall mirrors, floor to ceiling mirrors if possible. Mirrors are, of course, always a welcome addition to anyone's room. But more than that, the mirrors will brighten up your space and make you feel like your bedroom is much bigger than it actually is.
Having adequate storage space is crucial in any bedroom, but even more so if you are going for a celebrity inspired look. You won't see a chair with a pile of unsorted clothes in any of their rooms. If you have space for a walk-in closet, that is ideal. But if not, you should at least allocate some of your decorating dollars for a closet big enough for all your clothes, some shelving for your shoes and bags. That way, they won't be scattered or hanging haphazardly all over your room. It is always such an eyesore. You can also get creative with your storage space and install drawers underneath the bed or high shelves accessible via a ladder.
One celebrity-worthy design advice we can all follow is don't be boring. That doesn't necessarily mean you need to paint your walls a shocking color. Neutrals can be tasteful and elegant when done right. But even a mostly neutral room will do well with unexpected pops of color. It keeps things from being boring. This could be something as simple as a vase of wildflowers (fake or real), a shaggy rug, a lamp, or a colored throw. If you are unsure about this, limit your colored pieces to accessories, which you can easily remove or replace once it is no longer working for you.
All beautiful rooms have one thing in common: they are kept neat and clean. You don't have to be extremely organized with an alphabetized bookshelf. Indeed, some chaos and controlled clutter can very well be part of your bedroom's charm. But to have dirty mugs or glasses scattered about your room and clothes and shoes strewn on the floor is simply inexcusable. Sure, you may not have someone to clean up after you like most celebrities probably do, but you can pick up after yourself. Clutter and messiness will overshadow any amount of decorating you have done on your room. Don't waste your effort and keep your bedroom clean and free of clutter.
The tips mentioned above need not cost an arm and a leg. You definitely don't need a celebrity bank account to cop a celebrity's bedroom style. What you will need are style, creativity, and vision. Sign up for Pinterest and start a board filled with images that inspire you, that way you can easily keep track of photos, articles, and whatnot. It's also easy to edit if you change your mind along the way. Having a cohesive plan in decorating your bedroom is the first step.
Great design doesn't just happen by accident, after all. Think about what you want, visualize it and imagine what it will look in your own space. Start making your purchases. You can do this little by little. You don't have to buy all your big ticket items all at once. And don't forget the little accessories and accouterments. Little things can make a world of difference in any room. Once you are all done with your bedroom decorating, you might not even want to leave it! We don't blame you. Enjoy your new retreat from the outside world. Now make like a true celebrity and take lots of selfies in your beautiful new, Instagram-worthy bedroom!
$200 OFF YOUR MATTRESS. BUY A NEW BED ONLINE.
Take advantage of our best price deal on a DreamCloud mattress.
Claim $200 Savings >>