Bedtime Stories with Brian Williams
Brought to you by DreamCloud
Welcome to Bedtime Stories, a new series where we reveal the strange and enlightening nightly rituals of the people bringing you better sleep: Our staffers. Today, we're talking to Compliance Manager, Brian Williams.
Evening program I never miss:
"The 11th Hour with Brian Wiliams," of course!
Hibernating spirit animal:
Probably a bear because I have also been known to eat my entire body weight in one sitting then sleep for hours on end. On occasion.
I'm definitely a night owl, so I'm usually up too late.
Number of hours I usually sleep each night:
Somewhere between five and six. I know I'm not being compliant with the 7-8 hours I'm supposed to get. Ironic, right? I'm working on it.
Side sleeper + human sushi roll. I start the night laying on one side with one leg under the blanket and the other leg outside of it. Then, I proceed to roll over a few times, resulting in a giant sushi roll of blankets wrapped around me in the morning. Hmmm…now I'm craving a spicy salmon avocado roll (my favorite!).
Lullaby I'd karaoke to the world:
Funny enough, it's called "Lullaby," by Josh Groban featuring Ladysmith Black Mambazo (shoutout to my high school choir teacher, Heather Lockart, for bringing this beautiful piece into my life!).
I know I'm not being compliant with the 7-8 hours I'm supposed to get. Ironic, right?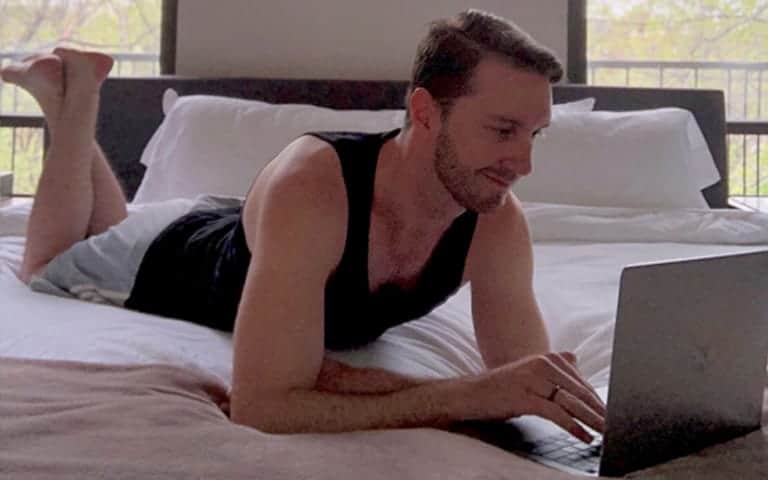 Bedtime ritual I swear by:
Taking my contacts out and cleaning my face before going to sleep. No matter what "state" I'm in, I always make sure to do those two things. "Morning Brian" always appreciates the effort.
Midnight snack I can't resist:
I saw Lindsay Lohan eating Oreos and peanut butter in "The Parent Trap," so now I eat Oreos and peanut butter with a glass of milk. I try not to nosh after 11p, but when I do this is my go-to treat.
Weirdest place I've ever slept:
On the floor of an aquarium, which was pretty awesome. I was a Boy Scout and camp counselor in my younger days and had many trips to the Liberty Science Center in Jersey City, NJ to participate in overnight STEM programs. The soft blue light and relaxing sound of the water made for a very peaceful sleeping environment.
Thing I can't fall sleep without:
Open windows, even in the winter, and background or white noise.
Wise words of sleep advice:
Find what makes you comfortable and incorporate it as much as possible into your sleep environment. For me, it's all about having an all-white bed—white pillows, white sheets, white duvet—maybe I'll do a throw blanket in a neutral color. I fall asleep every night feeling like I've made it big in some posh hotel, even if I'm only in my quaint Jersey City one bedroom apartment.
Gain first access to new products and exclusive deals