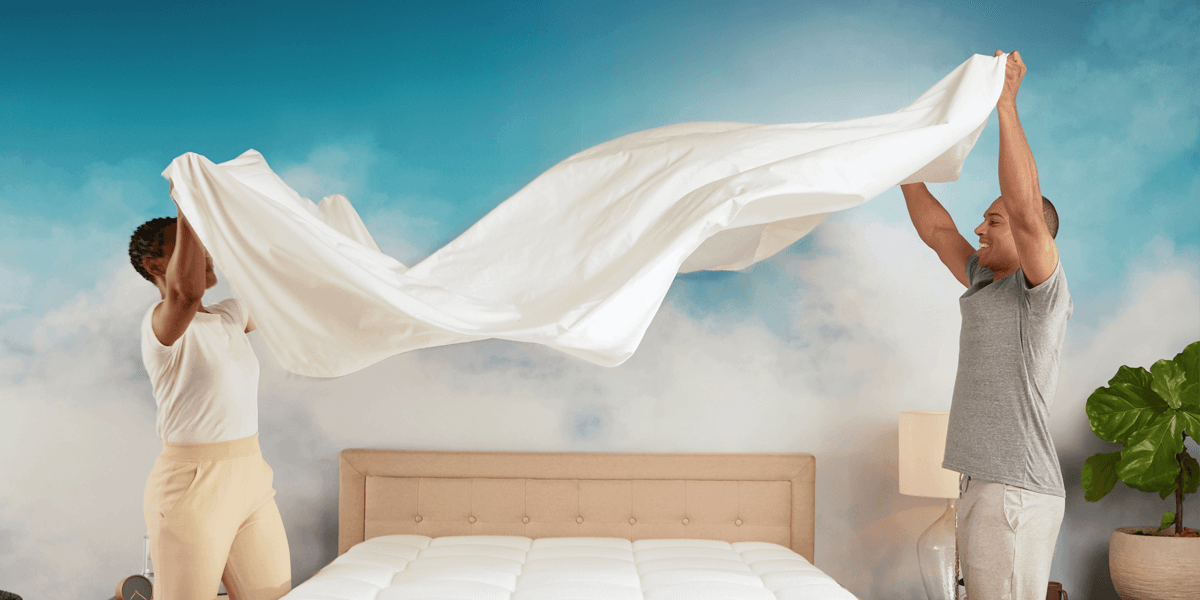 8 Easy Ways to Make Your Bedroom Feel Dreamy
Your bedroom isn't just a place to sleep–it's a retreat where you can escape from the world to relax and dream. Creating a space that feels peaceful and welcoming is easier than you think. Read on for simple decorating tweaks that'll spark your imagination.
1. Put Up wallpaper in a cloud print
Remember those lazy childhood afternoons spent watching the clouds move across the sky, calling out different animal shapes? Recapture that feeling of wonder with a wall (or ceiling!) covered in fluffy clouds, like so (see above). 
2. Use bedding and window treatments in ethereal colors
Blue has been shown to have a calming effect, and it's even more peaceful when combined with white on your walls, windows, or bedding. Another idea: Choose window treatments in a gauzy white or cream-colored fabric for a lush, romantic look.
3. Opt for good quality, soft bedding
Lightweight, well-made fabrics are irresistible to the touch and help you drift off easily. The 100 percent long-staple cotton sheets from  DreamCloud are perfect all year round—the diagonal twill weave helps you stay cool in the summer and warm in the winter. Bonus: The durable cotton gets softer with every wash.
4. Turn the lights down low
Bob Marley had it right. Soft, indirect lighting mellows the mood and makes any room feel more inviting. Try battery-operated candles (they look real, but no need to worry about fire) or add a vintage lamp with a 20- or 25-watt bulb on your nightstand. If you have modern overhead lighting, think about installing a dimmer switch.
5. Keep your space clutter-free
Nothing nixes a dreamy getaway vibe like tripping over piles of laundry or next week's work project. Likewise, ditch too-fussy décor (shelves of knick-knacks or college memorabilia) in favor of clean surface areas and simple furnishings.
6. Protect your sacred space
Be diligent: Banish toys, coloring books, and school photos (hey, we love them, but only in their proper place!) from the bedroom. Likewise, nix any work reminders, this month's pile of bills, or notes to call the plumber. Your bedroom should be your retreat from the real world, not a constant reminder of it.
7. Give your feet a treat
Especially if you have hardwood flooring, consider placing a thick, plush runner (like this one from Wovenly) next to the bed. Sinking your toes into luxurious softness first thing every morning will ease the transition from your cozy bed cocoon to the real world.
8. Upgrade to a comfier mattress
It's easier to have sweet dreams when your bed cradles you with comfort.  DreamCloud is made with six layers of premium materials, including a super-soft, quilted Euro Top that feels dreamy to sleep on. Try it and see for yourself.
Try DreamCloud for 365 Nights
Sleep worry free with our 100% money back guarantee