Shopping for a new mattress can be exciting but equally confusing. Whether it's shopping online or at physical stores, there are different types of mattresses and brands (each claiming to be the best in terms of quality & design) that choosing the right product can turn out to be overwhelming and much more perplexing than you think.
Besides the dilemma of which mattress to go with, there's another layer of confusion that adds up to the scenario—which is technology. Science has truly come a very long way and has certainly boomed in the last few years that hearing about innovations in the mattress world is no new.
New designs and ideas have led to so many options in the market that finding the right mattress fitting your sleep needs can be time consuming. As there are different types of mattresses in the market, we help you comprehend what each of it means, how it can cater your requirements, and how it can guide you to make an informed purchasing decision.
9 Different Types of Mattresses to Learn About
Whether it's a physical store or an online store, these are the list of common mattresses you will come across.
Innerspring Mattress
Innerspring mattresses (also known as coil mattresses) use metal springs for internal support. Generally, the support quality of these mattresses are measured based on the number of coils used in the design.
Now, this means that more the coils, higher the quality. In fact, the coil count determines how the mattress conforms to your body structure. In addition, innerspring mattresses have varying coil gauges and spring shapes to support your back completely.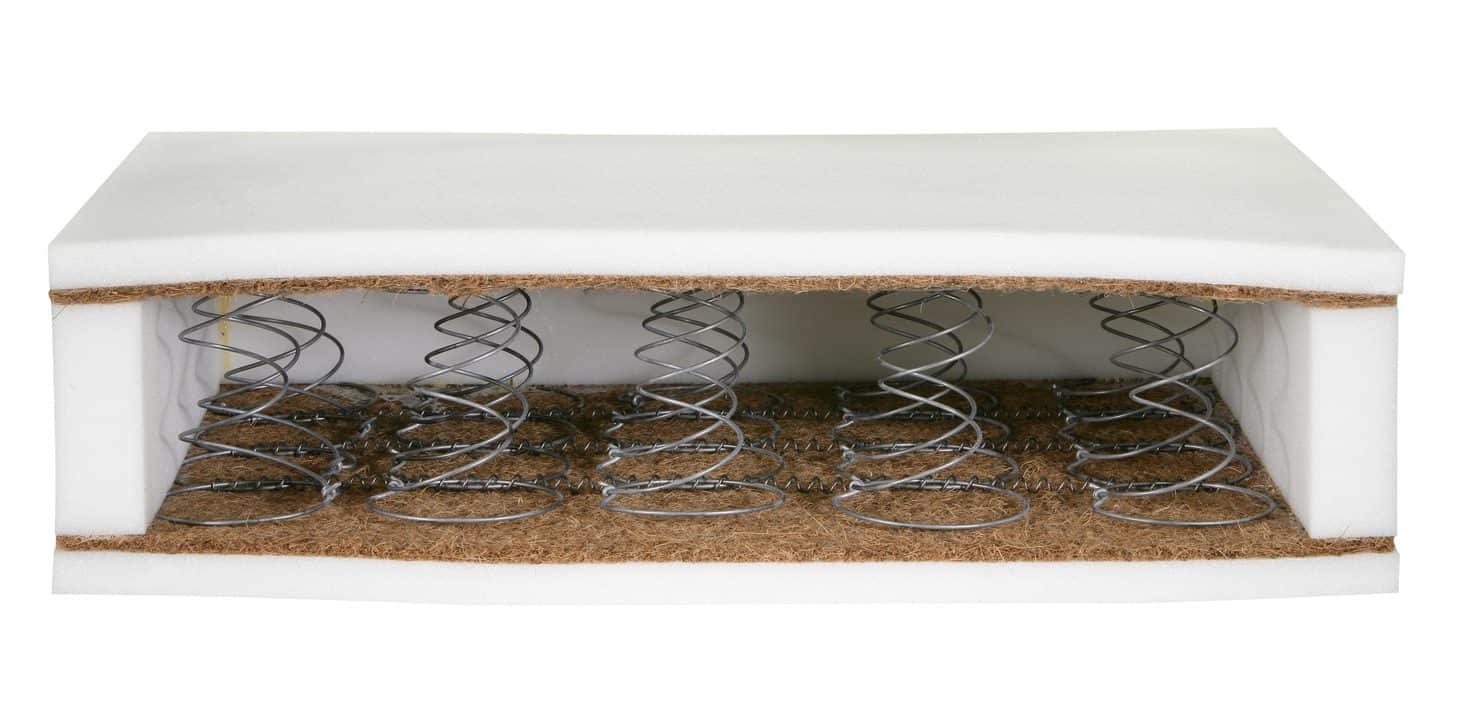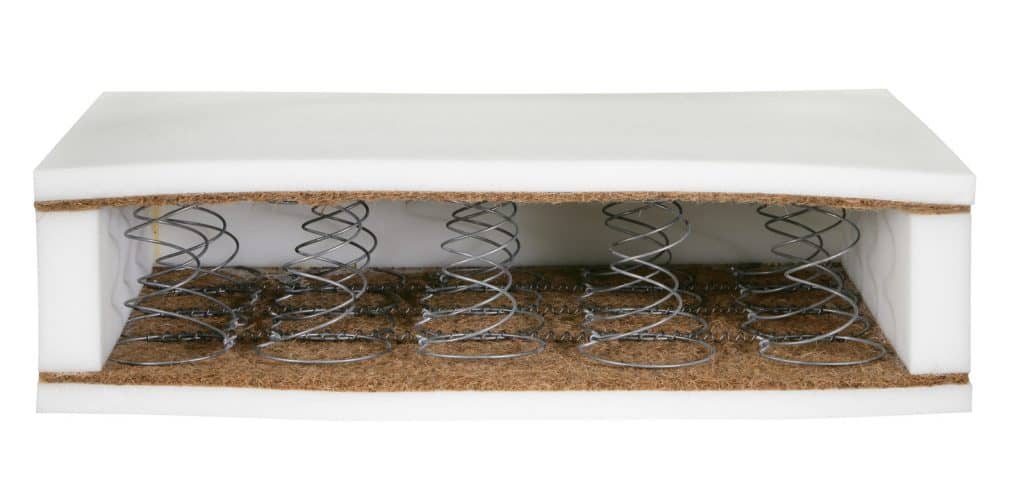 Whether you are a side or back sleeper, you are sure to stay super comfy on an innerspring mattress.
Specialty: Traditional innerspring mattresses are one of the most common types you will come across in the market. They are designed with interlocked spring coils.
Good for: Stomach and back sleepers.
Pros:
Supports your back
Relieves pressure points
Comes in various price ranges
Supports your body structure
Eases your back pain
Cons:
The firm feel might not suit if you are looking for soft beds
Some innerspring mattresses aren't adjustable or base compatible
Memory Foam Mattress
Memory foam mattresses offer excellent comfort and support, especially if you are a side sleeper. The reason for its immense popularity is due to the fact that it conforms to your body structure gradually as you sleep.
Let's say you sleep on the side, then it gives your hip and shoulder with 100% support. Also, it contours according to your body shape, making you feel surrounded partially and yet being supported by the mattress.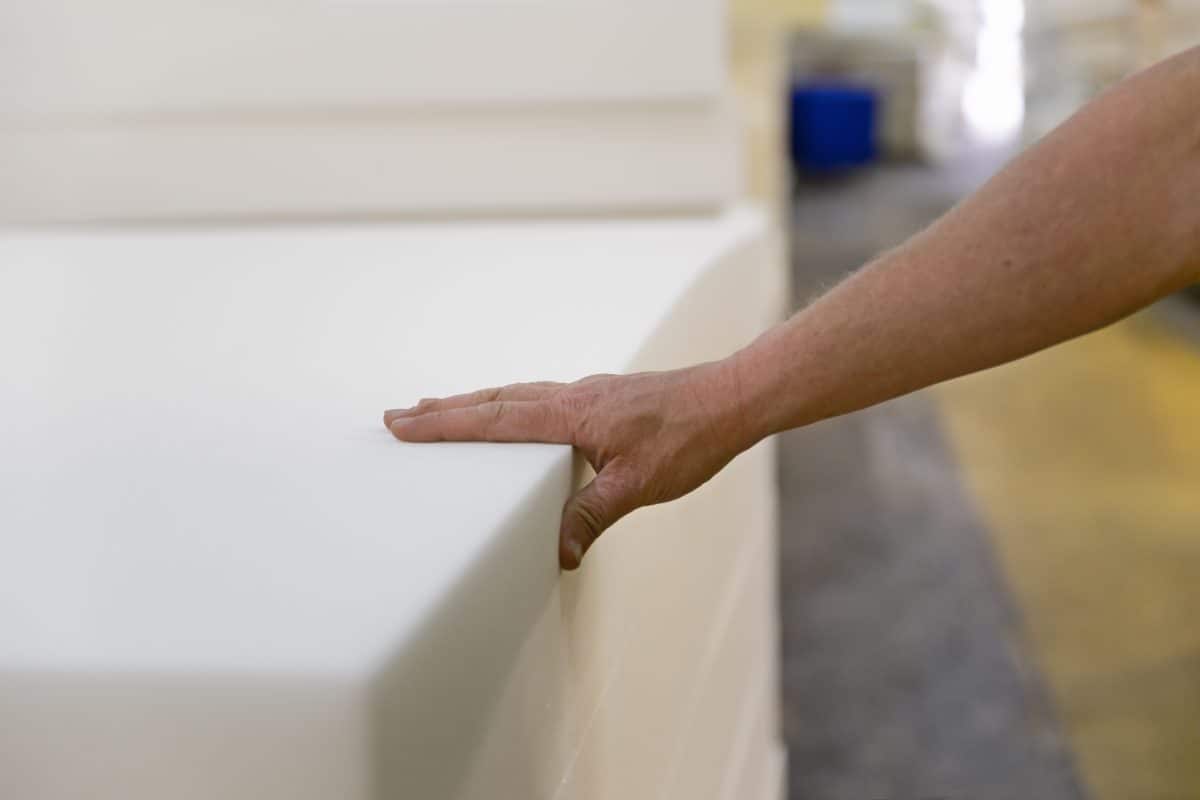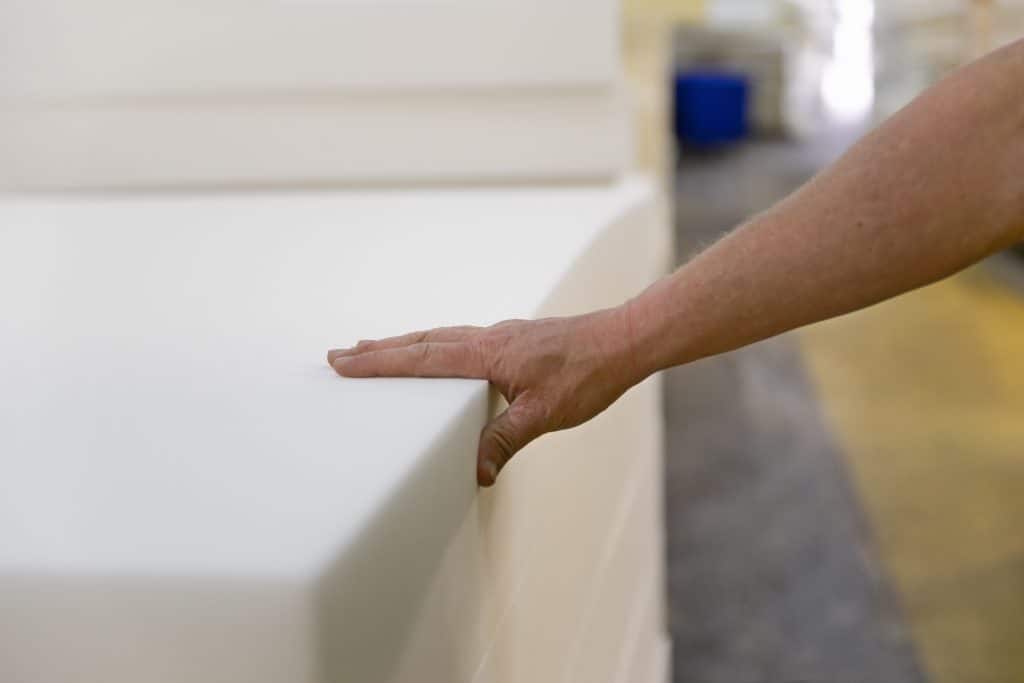 If you want to explore memory foam mattresses, check out Nectar's 5-layer foam mattress.
But what actually stands out is its multiple foam layers, which resist you from sagging in the middle while eliminating to flip the bed routinely.
Specialty: Conforming, soft support takes your body's shape and helps relieve pressure points.
Good for: Back, stomach, and side sleepers.
Pros:
Relieves the pressure points
Contours the body structure
Good for pregnant women
Gives comfy and restful sleep
Gives motion isolation
Cons:
Doesn't bounce back
Not an ideal option if you are a warm sleeper
Conforming feel might be extra soft for a few sleepers
Gel Memory Foam Mattress
Gel memory foam mattresses might sound all fancy because of the gel inside, but in reality, they tend to have the same experience as with traditional memory foam mattresses—except for the fact that they are more cooling.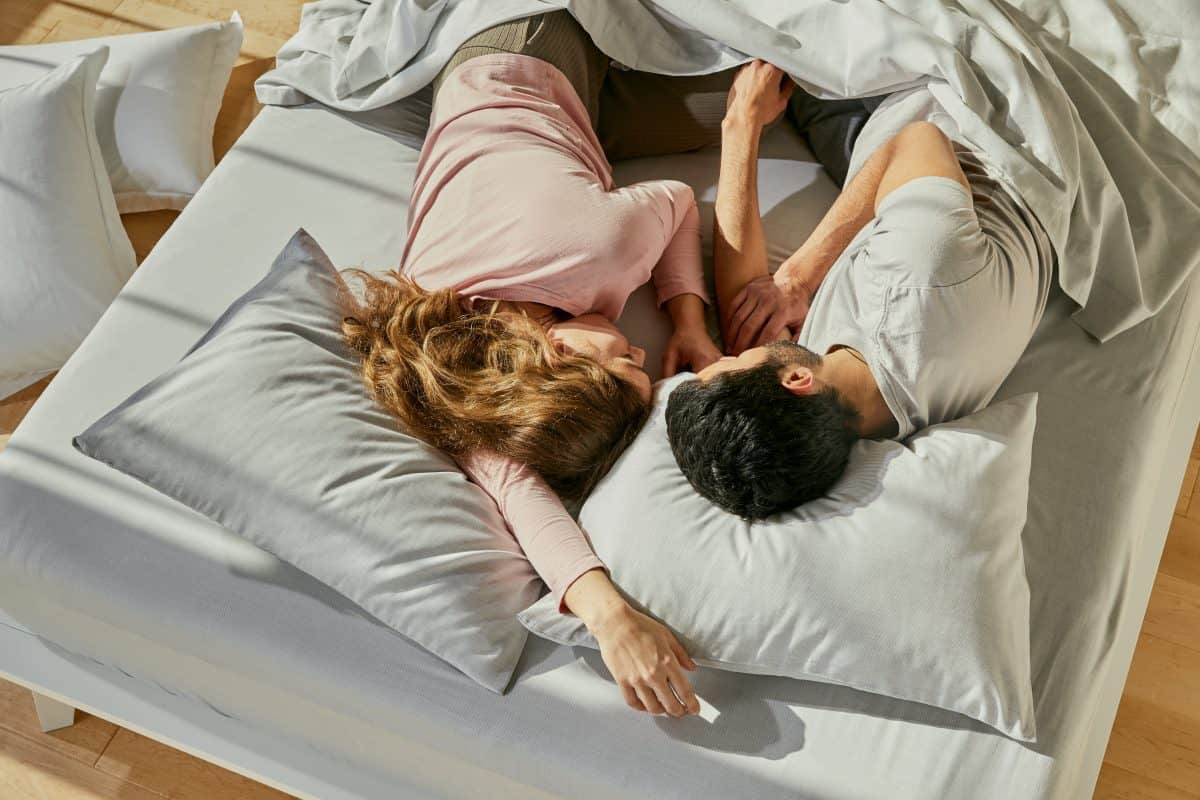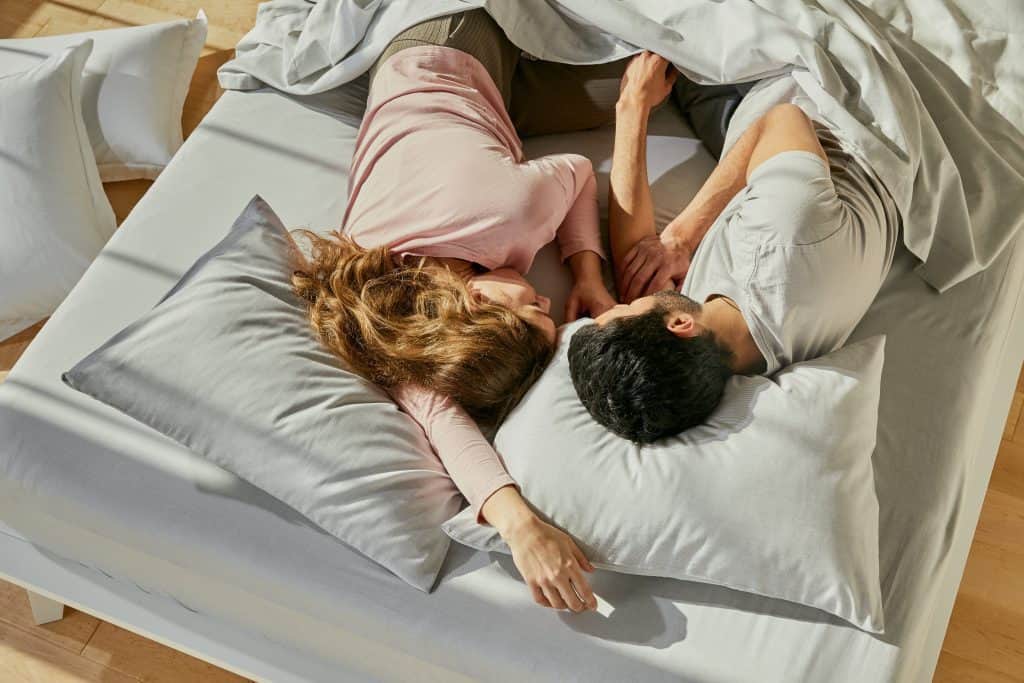 As the name implies, a gel memory foam mattress is made using any of these two:
Gel beads (these are capsules packed with gel)
Liquid gel (poured right into the memory foam)
This gel acts as a coolant and dissipates the heat, ensuring that you not just sleep cool but also retain the usual memory foam's pressure-relieving and body-conforming features.
Specialty: A gel memory foam mattress, as the name implies, is made of thermal gel which absorbs the body heat and lowers the temperature when you sleep. It dissipates heat for better air circulation and gives you the perks of typical memory foam mattresses and ensure that you have a balanced sleep temperature.
Good for: Sleepers who prefer better temperature control yet with the experience of a memory foam mattress.
Pros:
Better air flow
Keeps your body cool
Provides balanced support
Responds to body's weight
Relieves pressure points
Cons:
Its cooling properties and extra durability comes with a higher price tag
The conforming feel might be very soft for a few sleepers
Pillow Top Mattress
If you are a side sleeper who doesn't prefer going with gel memory foam or memory foam mattresses, then you can go for a pillow top mattress, or let's say a mattress with a pillow top.
Basically, this is an extra upholstery layer, which is added to the mattress's top. It is super cushiony and soft, giving a feel of "sinking" just like memory foam. But of course, you can select the softness level that you want for the pillow top, which is usually used with coil or innerspring.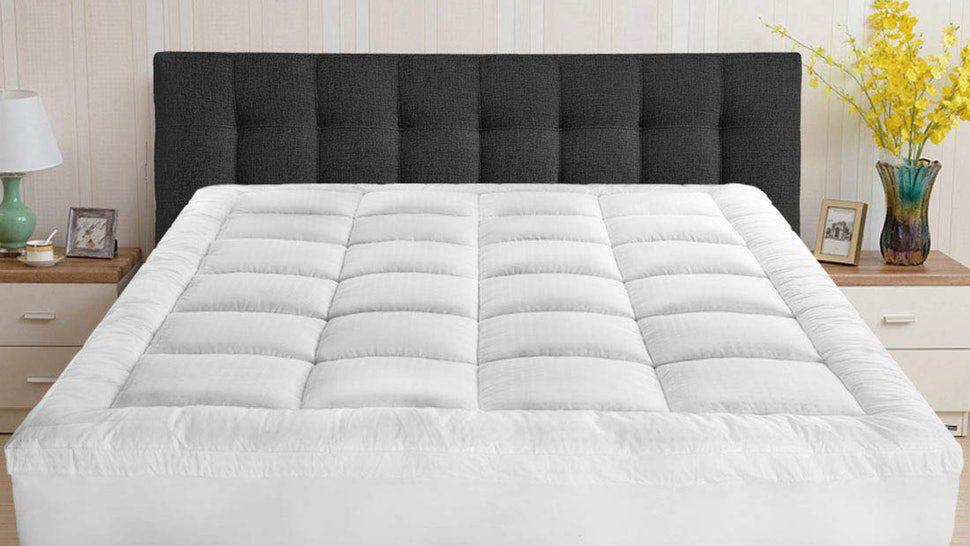 The best thing about this mattress is that it supports your shoulder and hip while keeping your back in a comfortable alignment.
Specialty: With an extra comfort layer nicely stitched on top of the foam or innerspring mattress, pillow top mattresses provide an additional cushion and softness surface.
Good for: Side sleepers or people who seek firm support yet with a cushiony touch.
Pros:
Much more affordable
Distributes your weight evenly
Lasts longer than traditional mattresses
Contours your body gently
Relieves pressure points from hip & shoulder
Cons:
Needs deep pocket sheets for accommodating extra layers
May be very soft for a few sleepers
Encased Coil Mattress
Encased coil mattresses are one of the most popular types of mattresses that are more like innerspring mattresses but feature individually-wrapped coils to give you better support, comfort, and response. Often referred to as pocket coils, this mattress has springs that minimize motion transfer.
This makes it an ideal pick, especially if you share your bed with someone who moves a lot throughout the night. These wrapped coil mattresses can also be used with a nice, adjustable base with spring construction, making it breathable. Overall, it prevents overheating. Interestingly, encased coil mattresses come in various comfort levels. So, you can choose one based on your sleep requirements.
Specialty: Adaptive and responsive, an encased coil mattress is individually wrapped in high-quality fabric for minimising motion transfer. It also offers localised and fine-tuned support.
Good for: Sleepers looking for an alternative to traditional innerspring mattresses but with more intense motion isolation.
Pros:
Keeps you 30% cooler than other mattresses
Makes you sleep comfortably
Prevents motion disturbances
Reduces pressure points
Excellent posture support
Cons:
May be too firm for some sleepers who prefer a soft mattress
Upgraded design and material might turn to be more expensive
Hybrid Mattress
Next on the list of different types of mattresses is hybrid, which is a perfect combination of support and cushioning. In fact, they work with almost all types of sleepers, even including the ones with pain issues.
Back pain, especially due to sleep can be hard to treat. There is no consensus as to which mattress type is ideal in order to address this problem.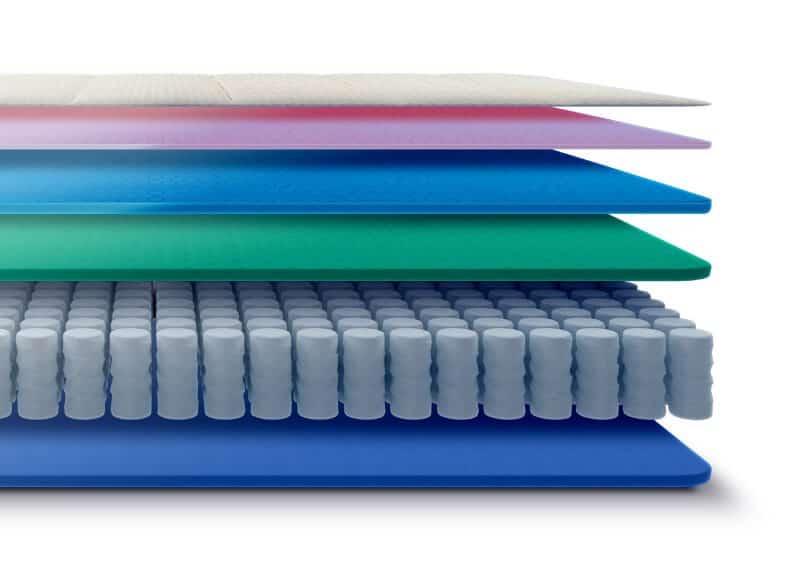 However, a hybrid mattress can provide the combo of the kind of stability that your back requires in order to be aligned and the softness & cushioning that you actually crave.
Specialty: The right balance of support and softness, hybrid mattresses include the best of both foam and spring technologies to create a superior sleep surface.
Good for: Couples, tummy, side, and back sleepers.
If you love the idea of a hybrid mattress, no better place to start than exploring the Dreamcloud Hybrid mattress.
Pros:
Relieves back pain
Super comfortable
Ideal for couples who compromise on the mattress firmness & feel
Available in varying comfort levels
Different options for materials
Cons:
Combo of innerspring & foam can be expensive
You might feel it too soft feel
Waterbed Mattress
A waterbed mattress uses water as its primary support and is ideally suited if you are a back sleeper. These mattresses consist of rectangular water chambers, which are padded along with a nice upholstery material like fiber or foam.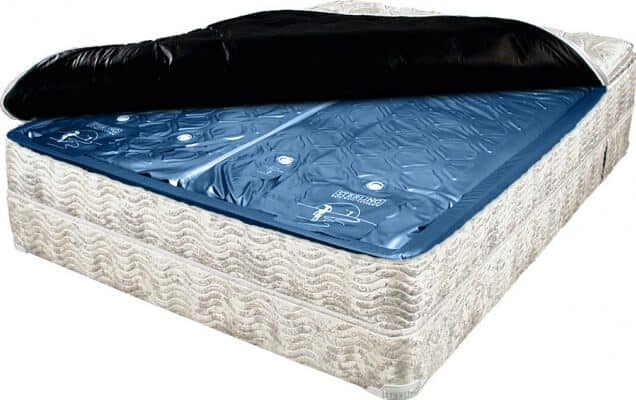 Now, the water can either be in any of these two:
Free-flow chamber
Waveless limited-flow chamber
If the water is in a free-flow chamber, then nothing can obstruct it from moving from one end to the other. On the other hand, in waveless waterbeds, the fibers restrict the movement of the water. What you choose actually depends on the flexibility and support you prefer.
Specialty: Unlike a conventional mattress that creates "pressure points" on the regions of highest weight concentration, a waterbed actually contours to the shape and weight of the body, giving 100% support.
Good for: Couples, tummy, side, and back sleepers.
Pros:
Provides complete support
Improves blood circulation
Ensures you get a good sleep
Soothes sores muscles
Leaves you feeling refreshed, energized, and well rested
Cons:
Maintenance and care requirements
Needs special bedding & accessories
Heating waterbed during winters increases energy costs
Airbed Mattress
When it comes to the list of types of mattresses, airbeds are popular too. When you hear the term first, you might instantly imagine it to be a blowup mattress, which your grandma had and sleeping on it would have left you feeling homesick during your summertime visits.
But the airbeds that you see in the market today are much more different and upgraded. Thanks to the technology. Air mattresses come in different qualities. The ones on the expensive side come packed with advanced features, which can leave you refreshed and well-rested when you wake up.
Specialty: Airbeds use air-filled chambers as a primary support. This air chamber is entirely padded with fiber or foam upholstery. In addition, the air chambers are adjustable, letting you adjust its firmness anytime.
Good for: Couples and back sleepers.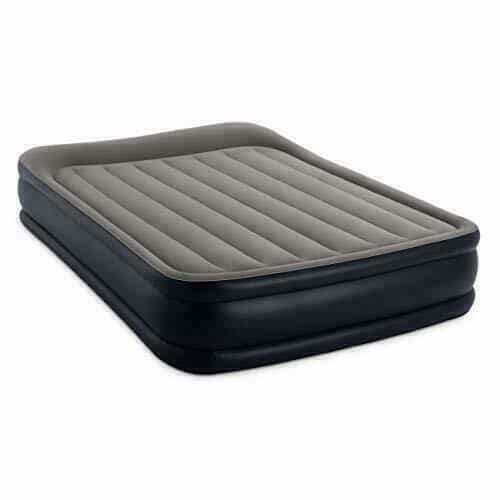 Pros:
Odour-free
Increased durability
Rapid inflation
Allows you to customize the firmness
Helps relieve back and body pain
Cons:
Lengthy assembly
Noisy pump
Short warranty
Latex Mattress
Latex is nothing but rubber, which might contain not just latex but also foams at the top along with supportive coils. Many different latex types can go into the making of a mattress like natural, synthetic, and blended latex. Latex is less heating and less dense than memory foams.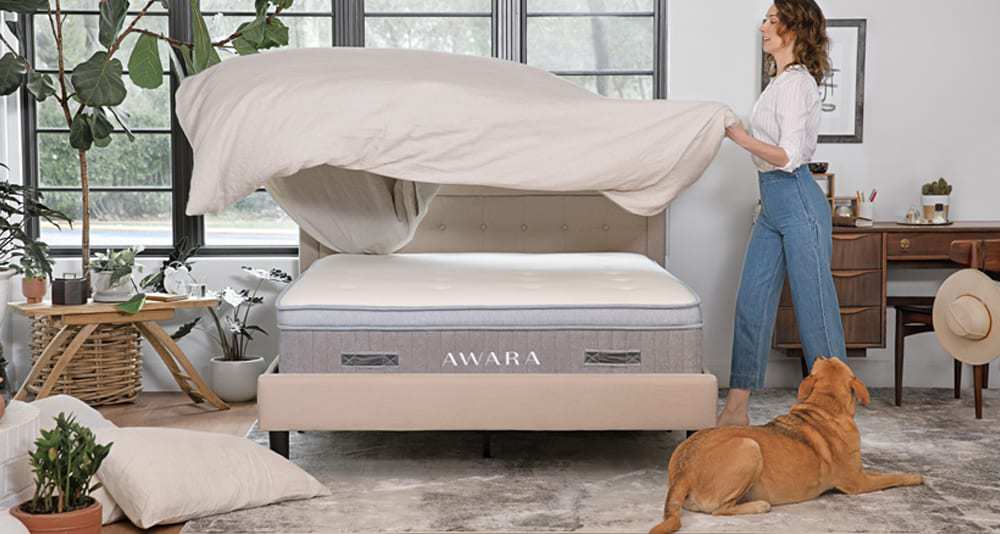 A latex mattress is an ideal option to go with if you are looking for an eco-friendly and durable mattress. However, there are still many types of mattresses that you can consider if you feel this is expensive.
Specialty: Latex mattresses, as the name implies, use latex foams rather than memory foams. Interestingly, latex offers differing firmness levels and plushness in order to accommodate various types of sleepers.
Good for: Back, side, and tummy sleepers.
If latex mattress is the way to go, then take a look at Awara's latex mattress. It's natural, its hybrid, its amazing!
Pros:
Highly durable and long lasting
Free from toxic off-gassing
Relieves back pain
Prevents motion transfers
Contours your body to support alignment
Cons:
Firm. So might not suit if you prefer soft beds
All-natural latex comes with a higher price tag
A Quick Comparison of the Different Types of Mattresses
| | | | | | | | | | |
| --- | --- | --- | --- | --- | --- | --- | --- | --- | --- |
| Feature | Innerspring | Memory foam | Gel memory foam | Pillow top | Encased or pocket coil | Hybrid | Waterbed | Airbed | Latex |
| Cost | $700 – $1000 | $500 – $900 | $500 – $5000 | $400 – $1400 | $300 – $1000 | $1200 – $2000 | $200 – $1500+ | $500 – $2500 | $1300 – $3000 |
| Durability | 3/10 | 6/10 | 7/10 | 8/10 | 8/10 | 7/10 | 6/10 | 4/10 | 4/10 |
| Weight | 5/10 | 4/10 | 8/10 | 7/10 | 8/10 | 6/10 | 2/10 | 10/10 | 5/10 |
| Back Support | 10/10 | 6/10 | 7/10 | 6/10 | 9/10 | 9/10 | 8/10 | 7/10 | 7/10 |
| Motion Transfer | 9/10 | 10/10 | 9/10 | 7/10 | 7/10 | 8/10 | 2/10 | 4/10 | 8/10 |
| Pressure Relief | 10/10 | 7/10 | 8/10 | 6/10 | 8/10 | 6/10 | 8/10 | 5/10 | 8/10 |
| Temperature Neutrality | 9/10 | 1/10 | 10/10 | 4/10 | 9/10 | 7/10 | 9/10 | 5/10 | 6/10 |
| Movement Ease | 7/10 | 3/10 | 8/10 | 8/10 | 7/10 | 8/10 | 3/10 | 8/10 | 5/10 |
| Noise | 8/10 | 9/10 | 9/10 | 7/10 | 6/10 | 7/10 | 7/10 | 10/10 | 10/10 |
Important FAQs
Here are a few noteworthy questions you might want to have a look at:
How many types of mattresses are there?
There are 9 – 10 but a few combinations lead the number to even 15.
How does a cooling gel mattress work?
A gel-based mattress combines gel and memory foam to create comfort that's quick enough to bounce back yet keeping you cool when you are asleep.
Which mattress is good for back pain?
Latex memory foam, innerspring, and hybrid mattresses are good for back pain.
When to get rid of an old mattress?
The ideal time to get rid of your old mattress and buy a new one is anywhere after 10 – 15 years.
Which mattress is ideal for the elder or senior citizens?
Buy a mattress that provides good firmness. Anything that sinks deep can sabotage their back.