15 Inches and 8 Mattress Layers of Heaven
DreamCloud is a 15" luxury hybrid mattress combining the best of latex, memory foam, tufting and coil technology to provide the best sleep money can buy. Every feature except nightly tuck-in service.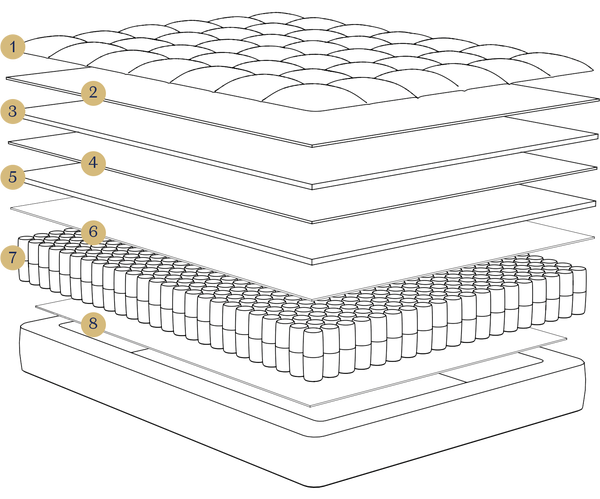 TrueTufted™ Cashmere polyester blend cover
Dream your best life! DreamCloud's Cashmere polyester blend cover provides unmatched breathability and premium softness.
GEL INFUSED MEMORY FOAM
Welcome to Plush! Contouring support that conforms to your body, DreamCloud's gel infused foam is cooling and supportive.
SUPER SOFT QUILTED MEMORY FOAM
Unique to DreamCloud and developed with lullabies in mind, resting on DreamCloud's quilted foam is like resting on clouds.
SUPREME NATURAL LATEX
DreamCloud's hypoallergenic super premium natural latex layer provides a cushioning bounce for extra give and added contouring.
DREAMPLUSH SUPPORTING MEMORY FOAM
Luxurious high density memory foam provides deep contouring support and the best of all possible dreamworlds.
Super Dense super soft memory foam
DreamCloud's super dense foam provides a strong support system in the mattress to cradle your body no matter what sleep position you prefer.
PATENT-PENDING "BESTREST" COILS
A five-zoned foam encased pocketed micro coil compression system provides unmatched dream support from head to toe.
HIGH DENSITY SUPER SOFT MEMORY FOAM
Don't just go to sleep, go to DreamCloud. DreamCloud's High density foundation foam keeps your body supported and helps reduce motion transfer for a luxury mattress experience.
Luxury Hybrid
Our hybrid mattress merges a Euro top and foam base so you never settle for anything less than a dream. Made by hand, and made with love.
CERTIPUR-US® CERTIFIED FLEXIBLE FOAM
Our unique flexible foam is CertiPUR-US® certified. This certification is given to less than 1% of the mattresses on the market to ensure quality and safety for you ultimate comfort.
PLUSH LIFE
Our 15" tall mattress is made up of 8 unique layers unmatched by any other mattress on the market. Our hand-tufted Cashmere blend cover, premium foams and natural latex layer are sourced from around the world and quite simply, the best.
WHERE LUXURY MATTRESS MEETS INNOVATION
WHY A CASHMERE BLEND FOR LUXURY SLEEPING EXPERIENCE
Cashmere is known as one of the softest, most luxurious material in the world due to its incredible softness, costly production process, and extreme scarcity. Sheared from the soft undercoat of goats bred to produce a wool that is already softer than the softest sheep's, you can think of Cashmere as the crème de la crème of wool. The goats come from select regions, which mean that each year approximately only 6,500 metric tons of pure Cashmere are produced (compared to 2 million metric tons of sheep's wool around the world). As if that wasn't enough, the fibers of the goat's soft undercoat must be separated from a coarser protective top coat during the spring molting season to get the nicest Cashmere. This is a very labor-intensive process, often involving hand sorting and combing each hair. Since it takes the hair of more than two-goats to make a single sweater, you can imagine how much Cashmere is needed to make a hand-tufted Cashmere blend bed cover.
3x
More Effective At Cooling
Than Foam or Cotton
All of these factors combined are the reason why most mattress companies wouldn't dare use a Cashmere blend for their covers - let alone hand-tuft it to the mattress using skilled artisans. But with DreamCloud, we truly spared no expense to bring you the Dreamiest, highest quality luxury mattress on the market. Cashmere is known to be three times more cooling than foam or cotton, so you'll never sleep hot. DreamCloud Cashmere blend cover is also hand-tufted which means we do not use adhesives to bind and compress the materials together. This eliminates sagging while providing excellent edge support. You'll instantly feel that the softness and smoothness the moment you lie down. You won't just go to sleep, you'll go to DreamCloud.
You won't just go to sleep,
you'll go to DreamCloud.
WHY DOES A LUXURY MATTRESS REQUIRE PREMIUM MEMORY FOAMS?
Memory foam was first developed by NASA to keep astronauts aligned and supported in space. DreamCloud memory foam has perfected the adaptation of this foam for our hybrid mattresses. Our unique foam layers include an innovative system of quilted memory foams, super soft foams, and foundational foams to provide the correct balance of softness, structure and support. Not all foams are created equal and DreamCloud uses only high-end foams which when found in other mattresses retail at more than 3x the price. The foams are wrapped lovingly around the BestRest coil system to give you your best night's rest. While other memory foams sleep hot, DreamCloud sleeps cool due to breathable foams and a built in cooling system. Our memory foam formula is designed for every type of sleeper and arrives backed by our Full Comfort Guarantee and Everlong Warranty, plus a full year sleep trial so you can make sure DreamCloud is right for you, at no risk. DreamCloud floats at the intersection of sumptuous and luscious. With DreamCloud, you will enjoy a dreamy luxury mattress using premium foams at a much better price.
Not all foams are created equal and DreamCloud uses only high-end foams which when found in other mattresses retail at more than 3x the price.
WHY BESTREST COILS FOR A LUXURY MATTRESS?
A five-zoned foam encased pocketed micro coil compression system provides unmatched dream support from head to toe. DreamCloud's innerspring coils have been lovingly designed to help you sleep cool and comfortable throughout the night. Due to the perfectly spaced coils, air is able to flow through the mattress freely, allowing heat to escape. Combined with DreamCloudֿֿֿ's other cooling technology, this is one of our secrets to ensuring you never sleep hot with DreamCloud. Our micro coils are designed to provide a luxury mattress experience. Each micro coil is far more flexible than your average mattress spring. This allows the springs to work with the memory foam in unison to contour to your body and support pressure points for the ultimate pressure relief. The coils also absorb motion transfer, so you won't feel your partner rolling around at night. Instead, you'll get soft support with a touch of bounce for the dreamiest, most luxurious sleep ever. DreamCloud BestRest coils are the most durable in the industry - they will not break down and will maintain their comfort level for a luxurious sleep experience backed by our Everlong Warranty.
Our micro coils are designed to provide a luxury mattress experience. Each micro coil is far more flexible than your average mattress spring.
WHY NATURAL LATEX FOR A LUXURY MATTRESS?
Natural latex is proven to be both elastic and durable, helping it hold up for a lifetime. While it is more resilient than synthetic latex, it also is better adapted to expand and conform to any weight and pressure it is exposed to. On the other hand, synthetic latex is more prone to breaking down over time and also does not have the same responsiveness to weight and pressure shifts. DreamCloud uses the best natural latex combined with our patented coils and scientifically formulated memory foams for unbeatable comfort and luxurious support.
Plush
Luxury grade materials let you sleep like Royalty.
Soft Comfort
You'll get the right amount of bounce and unbeatable support.
Pressure Relief
Supportive memory foam contours to ease your pressure points.
Support
Super dense foam foundation supports the soft top layers so you'll feel like you are floating.
The DreamCloud Mattress
Safe haven at home
Jesse V.
DreamCloud has become my safe haven at home. I find myself hitting snooze, and then sipping coffee in bed in the morning, and then skipping my couch at night to read in DreamCloud. The luxurious foams contour to my back so whether I am sleeping or sitting up, I always feel incredibly supported. I can't imagine my life before DreamCloud, and if I were to guess what actually sleeping on a cloud felt like, it would be DreamCloud.
Contouring memory foam and plush cashmere yes please
Mykala F.
Sinking into something like a cloud, DreamCloud's tufted top offered the most restful sleep I've ever had. I had never slept on a hybrid mattress before, but the combination of the contouring memory foam and the plush cashmere sounded incredible. DreamCloud felt so wonderful and is without a doubt the most enjoyable night's sleep I've had.
Layers of heaven
Frank H.
Layers of heaven is how I would describe DreamCloud. Each layer of memory foam comes together to support my body every night. I have no pressure points or sore muscles when I get out of bed in the morning. The combination of springs and foam makes for a truly dreamy mattress.
View All Reviews
Backed by science to give you the deepest sleep possible.
Hand crafted design and best-in-class materials certified materials make DreamCloud ultra premium. Feel as if you are floating on top of a luxurious world - night after night.